The Packo Service Award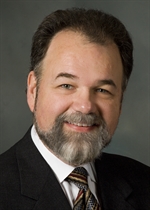 The American Society of Retina Specialists established the Packo Service Award in 2019 to recognize a member for exceptional service to the Society.

The award is named for its first recipient, Kirk H. Packo, MD, FACS, FASRS, professor and chairman of the Department of Ophthalmology and director of the Retina Section at Rush University Medical Center.
Dr. Packo's dynamic leadership and strategic innovations over 30 years helped shape the ASRS into an internationally recognized medical organization that encompasses all things retina.
Dr. Packo, who served as president of the Society from 2001-2002, served as a driving force behind many of the Society's cornerstone initiatives, including the Preferences and Trends Survey and Film Festival.
---
2022 Packo Service Award Recipient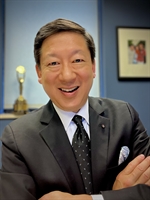 The ASRS has chosen Suber S. Huang, MD, MBA, FASRS, CEO of the Retina Center of Ohio, as the winner of the 2022 Packo Award in recognition of his exceptional service to the Society. The Packo Award is named in honor of its first recipient, ASRS 2001-2002 President Kirk H. Packo, MD, FACS, FASRS, whose dynamic leadership and strategic innovations helped shape and advance the Society for more than 30 years.
Dr. Huang, a voluntary assistant clinical professor of ophthalmology at Bascom Palmer Eye Institute, served as ASRS president from 2010 to 2012 and is a past president of the Foundation of the ASRS.
He founded the ASRS Retina Image Bank, now the world's largest and most comprehensive open-access multimedia database of "all things retina." This site, with over 40,000 images contributed, links expertise from around the world. The Image Bank will exceed 3 million cumulative page views in 2023 and has been used in 194 countries representing 99.2% of the world's population.
Dr. Huang is the founding editor in chief of the online ASRS Retina Atlas, which launched in 2021 with a mission to become the world's most comprehensive, up-to-date, and continuously iteratively resource for retina knowledge.
He is president, CEO, and executive producer of the Future Vision Foundation, an organization that celebrates breakthrough vision research through powerful documentaries of discovery, impact, and hope. Dr. Huang created the first-in-kind Future Vision Forum to bring visionary leaders in basic, translational, and clinical research together to seek new directions that accelerate discovery and innovation in ophthalmology and visual science.
Among his many honors are the Asia-Pacific Academy of Ophthalmology José Rizal International Medal; the Ophthalmic Photographers' Society's J. Donald M. Gass, MD, Award; and the Johns Hopkins University School of Medicine/Wilmer Eye Institute Distinguished Alumnus Award.
Dr. Huang is an inductee to the Retina Hall of Fame and has received the Top Doctors and Best Doctors in America awards each year since 2003; he has also earned the ASRS Presidential, Senior Honor, and Honor Awards.
---
Past Recipients

2021 Reginald J. Sanders, MD, FASRS
2020 ASRS Founders, Jerald Bovino, MD, FASRS, Roy Levit, MD, FASRS, and Allen Verne, MD, FASRS
2019 Kirk H. Packo, MD, FACS, FASRS
Some content on this page is restricted to access by members only.