Gertrude D. Pyron Award
The Retina Research Foundation's Gertrude D. Pyron Award
The Pyron Award was created by the Retina Research Foundation of Houston, Texas, to recognize outstanding vision scientists whose work contributes to knowledge about vitreoretinal disease.
Gertrude D. Pyron
The award, which offers a cash prize and research grant, is presented each year at the ASRS Annual Meeting. The recipient is chosen by the ASRS Awards Committee.
The Pyron Award has been endowed by an estate gift from Gertrude D. Pyron of San Antonio, Texas. She was an eminent geologist during her lifetime, and made her bequest to Retina Research Foundation (RRF) because of her admiration for Dr. Alice McPherson's leadership in vision science.
Retina Research Foundation was founded in 1969 by Dr. Alice McPherson, a member of the American Society of Retina Specialists, to establish and fund programs for the eradication of vitreoretinal disease. A public charity based in Houston, it has grown with support from a few community leaders to a major foundation, with broad support, funding a grant program, a major awards program, a career develop­ment program, and annual support for several research chairs.
The awards program sponsors lectureships not only at the ASRS Annual Meeting, but also the Award of Merit Lecture of The Retina Society, the Mills & Margaret Cox Award of The Macula Society, the Kayser Award of the Schepens International Society, and the Gonin Lecture of Club Jules Gonin.
Research chairs are endowed at the Baylor College of Medicine, and the University of Wisconsin Medical School. Travel awards and scholars programs are supported at the Association for Research in Vision and Ophthalmology and the Pan­American Association of Ophthalmology.
The ASRS is proud to be the recipient of the Pyron Award as part of this major awards program. The awards program for the RRF was established in 1978 to provided honoraria and research grants to internationally known retina scientists in recognition of their lifetime achievements.
The Retina Research Foundation has sponsored a Lectureship Research Award at the American Society of Retina Specialists Annual Meeting since 1995. From 1995 through 1998, the lectureship was named in honor of W.H. Helmerich, III. Commencing in 1999, the award series changed to honor Gertrude Pyron.
---
The 26th Annual Gertrude D. Pyron Award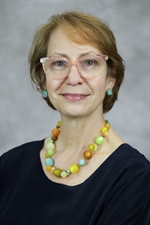 Recipient of the Retina Research Foundation's 26th Annual Gertrude D. Pyron Award is Cynthia A. Toth, MD, the Joseph A.C. Wadsworth Professor of Ophthalmology at Duke University School of Medicine and professor in the Department of Biomedical Engineering at Duke University's Pratt School of Engineering. Dr. Toth is also vice chair of clinical research and director of physician-scientist development for Duke Eye Center.

The Pyron Award was created by the Retina Research Foundation of Houston, Texas, to recognize outstanding vision scientists whose work contributes to knowledge about vitreoretinal disease. Its $50,000 cash prize includes a $5,000 personal honorarium and a $45,000 research grant.

Dr. Toth joined the Duke University faculty in 1993, where she succeeded Robert Machemer, MD, in developing macular translocation surgery and as director of the surgical instrument prototyping laboratory. She applied her surgical expertise to complex adult and pediatric vitreoretinal conditions, and many of her surgical technologies translated to clinical use. Dr. Toth transformed the laboratory to the Duke Advanced Research in SD/SS OCT Imaging (DARSI) Laboratory and co-founded the Duke Reading Center.

Her individual and multicenter research leadership has been funded by the National Institutes of Health, foundations and industry. Dr. Toth, along with Biomedical Engineering Professor Joseph Izatt, PhD, was the first to integrate OCT imaging into use in retinal surgery. With a multidisciplinary team, she has taken image-guided ocular microsurgery to the next level to improve surgeon performance.

Dr. Toth's research has also been the genesis of retinal OCT imaging in infants and young children, and has enabled Food and Drug Administration approval of the first handheld system for infant OCT imaging. The majority of her more than 285 peer-reviewed publications, book chapters, and a book, advance the understanding and use of OCT imaging and investigational imaging devices to guide diagnosis and clinical and surgical management.
---

The Retina Research Foundation Honorees
1995 George F. Hilton, MD
1996 Robert C. Watzke, MD
1997 Thomas M. Aaberg, Sr., MD
1998 Stanley Chang, MD
1999 Harry W. Flynn, Jr., MD
2000 Gholam A. Peyman, MD
2001 Yasuo Tano, MD
2002 Michael T. Trese, MD
2003 Lloyd M. Aiello, MD
2004 Morton F. Goldberg, MD
2005 Mark S. Blumenkranz, MD
2006 Brooks W. McCuen, II, MD
2007 Carmen A. Puliafito, MD, MBA
2008 Susan B. Bressler, MD & Neil M. Bressler, MD
2009 C.P. Wilkinson, MD
2010 Julia A. Haller, MD
2011 Jean Bennett, MD, PhD & Albert M. Maguire, MD
2012 Daniel F. Martin, MD
2013 George A. Williams, MD
2014 Andrew P. Schachat, MD
2015 Gary W. Abrams, MD
2016 Donald J. D'Amico, MD
2017 Paul A. Sieving, MD, PhD
2018 Joan W. Miller, MD
2019 Joan M. O'Brien, MD
2020 Mark S. Humayun, MD, PhD
2021 Cynthia A. Toth, MD