Physician Choice of Medication
Since 2012, the American Society of Retina Specialists has been closely monitoring incidence of tiered therapy in which third-party payers have establish policies restricting physicians' choice of medication in the treatment of macular degeneration.
ASRS has engaged state and national third-party payers to resolve such issues and to urge them to allow retina specialists and their patients to make wise and judicious choices based on each patient's unique risk factors and clinical appearance, as well as the availability of compounded drugs, and existing economic requirements.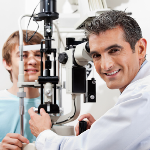 Currently, of the 3 available anti-VEGF agents that are available for treatment, only ranibizumab (Lucentis®) and aflibercept (Eylea®) have specific FDA approval, while lower-cost bevacizumab (Avastin®) does not, and is used in an "off-label" compounded manner. ASRS believes it is inappropriate for any insurer to require the use of tiered therapy, whereby a single anti-VEGF agent (typically Avastin) is required to be used for treatment before use of one of the other FDA-approved agents (Lucentis or Eylea) is considered.
Based on the Society's advocacy efforts, the Centers for Medicare & Medicaid Services (CMS) has publicly reaffirmed its policy with Medicare Advantage (MA) organizations saying in a 2012 letter, "the imposition of additional requirements for access to certain Part B drugs or services, such as step-therapy requirements, is not permitted unless also required through Original Medicare." Because Medicare does not have a step-therapy requirement for anti-VEGFs, MA plans cannot establish their own policy. In 2014 the agency went a step further by agreeing to investigate MA programs that ASRS had identified as having step-therapy policies.
In 2015, additional progress was marked as large insurers, including Humana, revised their policies to address this issue.
Artificially-imposed practice modifications for non-medical, financial reasons is ill-advised and continues to be actively opposed by the ASRS on a national and international level, and by other societies and individuals on a state and local level.
Advocacy timeline
Click the blue links for more information
Physician Choice of Medication Campaign
ASRS needs your help identifying Medicare Advantage plans that have explicit step-therapy policies or that systematically deny the use of Lucentis or Eylea until Avastin has been tried.

Click here for campaign information and resources.
Updated 11.2015
Report an event
Please contact Jill Blim if you have any evidence that an insurance plan has a step-therapy policy or is restricting beneficiaries' access to Part B drugs or services.