Have You Been Terminated From a Medicare Advantage Network?
ASRS has successfully assisted retina specialists in appealing terminations based on network adequacy concerns. If you are dropped from a network: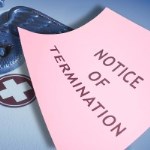 Contact the local medical director and network representative to find out the reason for your termination. Even "without cause" terminations occur for some reason, and understanding the insurer's motivation will assist you in explaining why it's wrong.
Ask for a complete copy of the claims data the health insurer has maintained on your practice and make sure the data are correct.
Review the provider directory to determine if it is accurate and there is an adequate panel of retina specialists.
Armed with information from your research, try to get the termination informally reversed. In addition to making sure you are being compared to other retina specialists as opposed to general ophthalmologists. It's important to provide the insurer with reasons you are important to the network. Your letter should focus on:
What makes you unique—special expertise, practice location, cultural competencies, practice efficiencies, and high patient satisfaction levels.
Your concerns about your patients' ability to access retinal care in a timely fashion.
If informal attempts to be reinstated fail, file a timely appeal. The letter should correct any errors in your profile and include any contractual arguments that notice was inadequate, as well as pragmatic arguments as to why your termination will harm the health insurer and your patients. Finally, consider asking you patients, colleagues, and ASRS for help. Sometimes health insurers respond more favorably to requests from others, particularly patients.
Patients can file a grievance with Medicare by calling 1-800-MEDICARE.
Recommendations for sending a termination appeal letter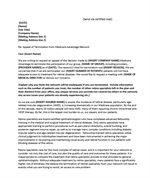 ASRS has created a Sample Medicare Advantage Termination Appeal Letter for your use.
If you decide to submit an appeal, please consider these recommendations.
Send your appeal via certified mail or some other carrier that can be tracked.
Be aware of the appeal deadline; send your letter as soon as possible.
Request a one-on-one conversation about your termination with a medical director from the insurance company.
Request reports and patient-specific information and review them for accuracy.
Listing of State Insurance Commissioners
Notifying your patients
Consider writing a letter to your patients to inform them that you will no longer be part of their Medicare Advantage plan. You can use the Sample Letter to a Patient Regarding Your Medicare Advantage Termination, which ASRS has created for your use.
Clarify that your termination was a unilateral decision of the insurance company.
Encourage your patients to complete the ASRS Medicare Advantage Plan Network Termination Patient Reporting Form.
Inform patients of the other Medicare Advantage networks and other Medicare programs that you will continue to participate.
Provide the dates for "open enrollment."
DO NOT make negative remarks about the insurance company that terminated you.
DO NOT instruct your patients to drop their current coverage; simply inform patients of their options.
To create personalized letters and labels efficiently in bulk, consider using the "mail merge" function of your word processing software. Tutorials available at:
Microsoft Word Mail Merge Tutorial
Apple iWork Pages Mail Merge Tutorial
Open Office Mail Merge Tutorial
Help ASRS make a difference
ASRS is gathering information for our ASRS Advocacy Campaign. Please report if you have been terminated recently from a Medicare Advantage Network and ask your patients to do the same.