What's for Lunch? Better Communication!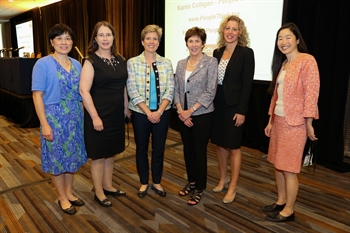 WinR Vice Chair Jennifer Lim, MD; Chair Alice Lyon, MD; Treasurer Nancy Holekamp, MD; Guest Speaker Karen Colligan; WinR Luncheon Co-chair Schlomit Schaal, MD; and Communications Chair Mina Chung, MD, gather at Lunch with the WinRs.
At the 8th Annual Women in Retina (WinR) "Lunch with the WinRs," more than 100 women retina specialists gathered for food, fun, and collegiality. The highlight of the luncheon was guest speaker Karen Colligan from PeopleThink, who presented "Communicating from Your Strengths."
Using the Insights Discovery model, Karen characterized 4 communication styles: Fiery Red (action oriented), Sunshine Yellow (social), Earth Green (relationship oriented) and Cool Blue (analytical). The take-home message: knowing the communication style of the person you are talking to leads to better communication.
The WinR Fluorescein Conference was held as an evening program, offering an opportunity for female members in training as well as seasoned academicians to present interesting cases for a spirited discussion in a relaxed atmosphere. This event continues to grow each year, serving as a way for WinR to mentor presentation skills of young members and for all to learn from each other.
Lunch with the WinRs and the WinR Fluorescein Conference were generously funded via grants from Genentech, Inc, Regeneron Pharmaceuticals, Inc, and Allergan, Inc. Feedback from WinR members has been enthusiastic. WinR may have found its niche at very large meetings by offering a chance for women retina specialists to network, socialize, and do business.