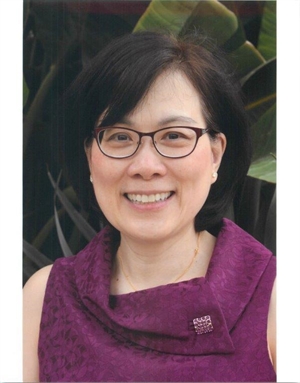 Jennifer I. Lim, MD
(312) 413-0704 (Office)

1855 W. Taylor Street, Suite 250
Chicago, IL 60612 , US map
Education and training
Retinal fellowship

Johns Hopkins Wilmer Eye Institute, Baltimore MD

Medical School

Northwestern University, Chicago IL

College

Northwestern University, Evanston IL

Ophthalmology residency

University of Illinois at Chicago, Department of Ophthalmology, Chicago IL
Biography
Dr. Jennifer I. Lim holds the Marion H. Schenk Esq., Chair in Ophthalmology for Research in the Aging Eye as a Professor of Ophthalmology and Director of the Retina Service at University of Illinois at Chicago. Her areas of expertise include surgical and medical retinal diseases. She received her MD with Distinction from Northwestern University (Six-Years Honors Program in Medical Education), where she was elected into AOA and received both the Dean's AOA Student Research Award and the Julius Conn Memorial Award. She completed her ophthalmology training at University of Illinois at Chicago, receiving the Resident Research Award and the American College of Surgeons Resident Competition Chicago Chapter Keeshin Prize. She completed medical and surgical retina fellowships at the Wilmer Eye Institute of Johns Hopkins Hospital, where she was a Heed Fellow and a Heed Knapp Fellow Awardee. After completing her training, she joined the faculty of Emory University as an Assistant Professor of Ophthalmology. She was recruited to Doheny Eye Institute of University of Southern California as an Associate Professor with tenure and then promoted to Professor of Ophthalmology. In 2007, she was recruited to University of Illinois at Chicago as the Director of the Retina Service.

Her research interests include clinical trials, translational research and retinal vascular disease. She has been principal investigator in over 60 clinical trials, serves on Data and Monitoring Committees and sits on Executive Committees. She collaborates with basic scientists on angiogenesis and imaging research. She has received funding from the National Eye Institute, Macula Society Research Fund, American Cancer Society and numerous industry grants.

Her current leadership positions include Deputy Associate Editor for JAMA Ophthalmology, EyeWiki Retina Section Editor, Treasurer of The Retina Society, IOVS Editorial Board member, Vice-President of the Chicago Ophthalmology Society, University of Illinois at Chicago Faculty Senator and International Advisor of the Honk Kong Journal of Ophthalmology. She serves as an Associate Examiner of the American Board of Ophthalmology (ABO) and has served on the Maintenance of Certification Committee of the AAO. She is also a past-President of both WIO and CAOS. She has been the AAO Retina Sub-day Director and on the Retina Subspecialty Day Planning Committee, Retina Subcommittee Chairperson of the AAO Annual Meeting Planning Committee, Chairperson of Retina Society Credentialing Committee, Chairperson of the Macula Society Research and Education Committee, Chair of the Nominating Committee of Macula Society, 2016 AAO Council Subspecialty Representative to the Nominating Committee, former CME Editor for JAMA Ophthalmology and past Retina Society Councilor of the American Academy of Ophthalmology (AAO),.

She has received the AAO Life Achievement Honor Award (2018), AAO Secretariat Award (2011), ASRS Senior Honor Award, Suzanne-Veronneau Troutman Award, ARVO Gold Fellow Award (2019), Silver Fellow Award (2014), Chinese American Ophthalmology Service awards, University of Southern California (USC) teaching awards (1998 - 2007), UIC Departmental Faculty of the Year Award (2018) and Mother McAuley Liberal Arts High School Hall of Honor (2019). She was the inaugural University of Illinois at Chicago Distinguished Sweeney Lecturer and was named to Chicago Super Docs, Best Doctors in America, Top Doctors and ASRS Retina Hall of Fame (charter inductee). She has authored or co-authored over 300 articles, 30 book chapters and edited several books including Age-Related Macular Degeneration, which is currently in the Third Edition.

---
Academic appointments
Marion Schenk Chair and Professor of Ophthalmology
University of Illinois at Chicago
Hospital appointments
University of Illinois at Chicago