Submit a Spotlight Case
Have you recently been presented with an interesting or compelling retina case that would be of interest to other retina specialists? If so, submit it for consideration as a Spotlight Case. These cases are extremely popular with ASRS members, making it a fantastic opportunity to demonstrate your clinical knowledge.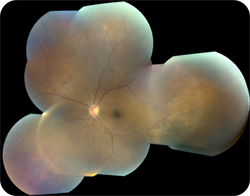 Each Spotlight Case should be 600 to 800 words and must include the following:
Author name(s), credentials, financial disclosures, and head shots
Lead image with caption
Case history with additional images
What's your diagnosis?
Discussion
Take-home points
References
All cases must be reviewed by an attending before submitting for consideration. The Spotlight Case editors review each case prior to publication.
If your case is approved, it will be highlighted on the ASRS home page, announced in the Retina FYI e-newsletter, and become a fixture in the ASRS clinical educational library.
For questions or to submit your case, contact Chayal Patel.