Spotlight Case: Why an On-the-Dot Diagnosis Is Necessary
Case history
A 33-year-old highly myopic Caucasian woman presented with decreased vision and distortion in her left eye. Her history dated back 13 years when she had progressive painless decreased vision in the right eye, followed 3 years later by decreased vision in the left eye. Her family history was unremarkable.
Her workup included:
Purified protein derivative (PPD)
Human leukocyte antigen B27 (HLA-B27)
Lysozyme
HLA-29
Angiotensin converting enzyme (ACE)
Lyme
Bartonella
Fluorescent treponemal antibody absorption (FTA-ABS)
Anti-smooth muscle antibody (Anti-Sm )
Anti-Double-stranded DNA (anti-dsDNA)
Complement factors C3 and C4
Rheumatoid factor (RF)
Anticardiolipin (aCL)
Lupus anticoagulant (LA) factor
Anti-SSA/Ro
Anti-SSB/La
Erythrocyte sedimentation rate (ESR)
Human immunodeficiency virus (HIV) antibodies
Cytoplasmic antineutrophil cytoplasmic antibodies (C-ANCA)
Perinuclear antineutrophil cytoplasmic antibodies (P-ANCA)
C-reactive protein (CRP)
All were negative.
A full-field electroretinogram (ERG) was normal, and multifocal ERG showed decreased amplitudes in both eyes.
She was initially diagnosed with bilateral multifocal choroiditis with panuveitis (MCP).
Immediately following diagnosis, she underwent multiple intravitreal and subtenon steroid injections and intravenous Solu-Medrol (methylprednisolone, Pfizer, Inc, New York, NY). Two years prior, she began systemic prednisone and mycophenolate mofetil, under which she was well controlled, but these were discontinued 1 year later because she wanted to start a family and had previously miscarried. Over the past 6 months, she has been off all medications.
In addition to her reported decreased vision and distortion in the left eye, vision was 20/50 (stable for 10 years) in the right eye and 20/25 in the left eye (decreased from 20/20). Her visual fields were full to confrontation. Her pupils were equally round and reactive to light with no afferent pupillary defect. External exam and extraocular motility were normal. Intraocular pressures were 14 and 19. Slit-lamp examination was remarkable for stable steroid-related posterior subcapsular cataract superior to the visual axis in the left eye. Her examination was specifically negative for anterior chamber cells, flare, vitreous cells, and vitreous haze.
Funduscopic photos, OCT, and fluorescein angiography (FA) are shown in Figures 1-3.
FA of the left eye showing inactive chorioretinal lesions superior to the fovea with central hypofluorescence in early frame (Figure 3a) and peripheral hyperfluorescence in mid frame (Figure 3b) and late frame (Figure 3c). Small active chorioretinal lesions nasal and inferior to the fovea show early hypofluorescence, with gradual staining and late leakage. An area of late subfoveal leakage is also seen in late frame.
| | |
| --- | --- |
| Figure 1a: Color funduscopic photo of the right eye showing multiple punched-out chorioretinal lesions with various degrees of pigmentation clustered around the fovea with a few lesions nasal to the disc | Figure 1b: Color funduscopic photo of the left eye showing multiple punched-out chorioretinal lesions <1/3 disc diameters (DD) in size within the macula with various degrees of pigmentation. It is difficult to appreciate intraretinal or subretinal fluid in either eye. |
Diagnosis
The patient was diagnosed with multifocal choroiditis with subretinal fluid secondary to choroidal neovascular (CNV) membrane.


Management
The patient was administered a 1ml/40mg subtenon Kenalog (triamcinolone acetonide, Bristol-Myers Squibb, New York, NY) injection in the left eye. On follow-up, 10 days later, she reported improvement in distortion, and her vision was 20/30. Repeat OCT of the left eye showed resolution of subretinal fluid (Figure 4).
| | |
| --- | --- |
| Figure 2a: A 5-line raster OCT of the right eye showing disruption of the outer retinal layers and inner segment-outer segment (IS/OS) junction. | Figure 2b: A 5-line raster OCT of the left eye showing subretinal fluid. |
Discussion
White dot syndromes are a group of heterogeneous chorioretinal inflammatory diseases that vary in severity from mild and self-limiting to chronic and vision threatening. Amongst this group is MCP. It affects predominantly young, moderately myopic patients in their middle 30s,[1,2] and there is no racial or familial predilection.
Most cases are bilateral, and patients present with decreased vision, metamorphopsia, and photopsias.
On exam, they have panuveitis and choroidal lesions. Acute choroidal lesions may appear white to yellow and change pigmentation over time. They can be associated with overlying vitritis, range in size from 50µm-350µm, and occur in linear clusters or streaks.[3] Over time, as the lesions become inactive, they become punched out and atrophic.
| | |
| --- | --- |
| Figure 3a: Early frame FA of left eye | Figure 3b: Mid frame FA of left eye |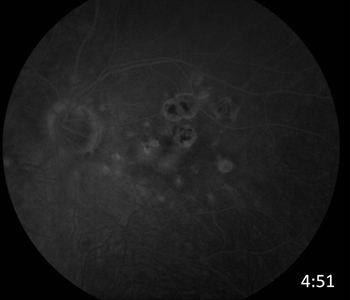 Figure 3c: Late frame FA of left eye
Some eyes go on to develop diffuse subretinal fibrosis (DSF) syndrome with coalescence of lesions and broad zones of subretinal fibrosis. Punctate inner choroiditis (PIC) is a similar syndrome characterized by less vitritis. PIC lesions tend to be smaller, are less pigmented, and rarely extend to the mid periphery compared to those seen in MCP. Cystoid macular edema (CME) and CNV membranes are major causes of visual loss in patients with MCP, which occur in about 30% of patients.[5]
MCP, PIC, and DSF may represent a continuum in severity of a single syndrome.[4]
FA reveals early blockage by acute active lesions with gradual staining and late leakage. Atrophic lesions produce window defects; therefore, they appear hyperfluorescent in early phases and fade away in late phases. CME can be seen angiographically with petaloid leakage, and CNV membrane will show early hyperfluorescence with late leakage.[4]
Indocyanine green (ICG) angiography demonstrates confluent hypofluorescent lesions surrounding the optic nerve, which in most cases are more numerous than seen on clinical exam or FA. These lesions are indicative of acute or subacute disease. The confluence of the lesions around the optic nerve may help explain the enlarged blind spot noted during visual field testing.[6]
OCT detects CME and CNV membrane, and abnormalities at the IS/OS junction have also been documented.[4]
FA imaging is also useful in the evaluation of MCP, given that the disease affects the retinal pigment epithelium (RPE). It has been shown that hyperfluorescence surrounding a lesion is indicative of uncontrolled inflammation. In the later, chronic phase of the disease, RPE death will result in hypofluorescence.[4]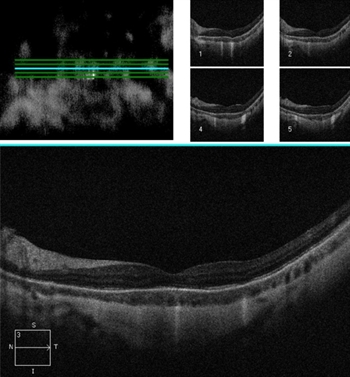 Figure 4: A 5 line raster OCT of the left eye shows resolution of subretinal fluid.
Electrophysiological testing yields variable results. Some patients have severely reduced electroretinograms (ERG), while others may have normal findings. Multifocal ERG may demonstrate decreased macular function.[7]
Differential diagnosis includes ocular histoplasmosis syndrome (OHS), sarcoidosis, and other white dot syndromes such as punctate inner choroidopathy (PIC), birdshot retinochoroidopathy, and serpiginous choroiditis.
The cause of MCP is unknown. It has been hypothesized that it is due to an autoimmune reaction mounted against antigens within the photoreceptors, RPE, and choroid.[8] Gass proposed that MCP and multiple evanescent white dot syndrome (MEWDS), acute macular neuroretinopathy (AMN), and acute idiopathic blind spot enlargement syndrome (AIBSE) share common clinical features. They are grouped under the acute zonal occult outer retinopathy (AZOOR) complex.[9]

MCP is treated with topical, regional, or systemic corticosteroids. CNV membrane may be treated with a combination of steroids, anti-VEGF agents, photodynamic therapy (PDT), or thermal laser. MCP has a waxing and waning course, and progressive visual loss may occur. Systemic immunomodulators or steroid implants are ultimately needed to control intraocular inflammation.[7]

Take-home points
White dot syndromes are a group of distinctive disorders characterized by inflammation of the retina, RPE, and choroid. Clinical presentation, findings, and imaging modalities help distinguish them among the different entities.
MCP presents with photopsias, scotoma, and metamorphopsia in young myopic women. Clinical findings include vitritis, anterior uveitis, and choroidal lesions.
MCP, PIC, and DSF represent a continuum of severity of a single syndrome.
Visual loss in MCP can be secondary to chronic inflammation, progression of lesions into atrophic scars, cataract, epiretinal membrane, CME, or CNV membrane.
Imaging is necessary to assess disease activity and follow sight-threatening complications such as CNV membrane and CME.
Intravitreal pharmacotherapies such as steroids or anti-VEGF agents have shown to be effective in controlling the disease locally.
Systemic immunosuppression achieves quiescent inflammation and reduces the risk of posterior pole complications.
References
Dreyer RF, Gass DJ. Multifocal choroiditis and panuveitis. A syndrome that mimics ocular histoplasmosis. Arch Ophthalmol. 1984;102(12):1776-1784.
Morgan CM, Schatz H. Recurrent multifocal choroiditis. Ophthalmol. 1986;93(9):1138-1147.
Spaide RF, Yanuzzi LA, Freund KB. Linear streaks in multifocal choroiditis and panuveitis. Retina. 1991;11(2):229-231.
Shakoor A, Vitale AT. Imaging in the diagnosis and management of multifocal choroiditis and punctate inner choroidopathy. Int Ophthalmol Clin. 2012;52(4):243-256. doi:10.1097/IIO.0b013e318265fb51.
Thorne JE, Wittenberg S, Jabs DA, et al. Multifocal choroiditis with panuveitis incidence of ocular complications and of loss of visual acuity [published online September 25, 2006]. Ophthalmol. 2006;113(12):2310-2316. doi:10.1016/j.ophtha.2006.05.067.
Slakter JS, Giovannini A, Yannuzzi LA, et al. Indocyanine green angiography of multifocal choroiditis. Ophthalmol. 1997;104(11):1813-1819. doi:10.1016/S0161-6420(97)30022-0.
Quillen DA, Davis JB, Gottlieb JL, et al. The white dot syndromes. Am J Ophthalmol. 2004;137(3):538-550. doi:10.1016/j.ajo.2004.01.053.
Folk JC, Gehrs KM. Multifocal choroiditis with panuveitis, diffuse subretinal fibrosis, and punctate choroidopathy. In: Schachat AP, Ryan SJ, eds. Retina. 3rd ed. St. Louis, MO: Mosby; 2001:1709-1720.
Gass JD. Acute zonal occult outer retinopathy. Donders Lecture: The Netherlands Ophthalmological Society, Maastricht, Holland, June 19, 1992. J Clin Neuroophthalmol. 1993;13(2):79-97.
Financial disclosures
Dr. Haddad - None.
Dr. Reddy - None.
Dr. Hau - SEQUENOM: Speaker, Honoraria; THROMBOGENICS, INC: Other, Honoraria.
Dr. Choudhry - ALLERGAN, INC: Advisory Board, Speaker, Honoraria; BAUSCH + LOMB, INC: Advisory Board, Honoraria; BAYER HEALTHCARE: Consultant, Speaker, Honoraria; NOVARTIS: Advisory Board, Speaker, Grants, Honoraria; OPTOS PLC: Speaker, Honoraria.
Some content on this page is restricted to access by members only.