Taxonomy Code for Retina Specialists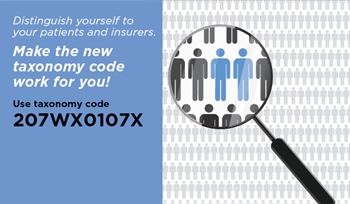 Taxonomy code 207WX0107X allows retina specialists to stand out from the crowded field of general ophthalmology by clearly defining them as ophthalmologists who specialize in the diagnosis and treatment of vitreoretinal diseases. But in order to benefit, you'll have to tap into your taxonomy by selecting the code.
Tap into your taxonomy
This new code will allow retina specialists to register their subspecialty status and be grouped and compared rightfully with their peers. The Wall Street Journal has published an online tool linked to the Centers for Medicare & Medicaid Services (CMS) database. This tool generates total Medicare Part B payments made to physicians and compares them with those made to their peers. Try this online tool: http://graphics.wsj.com/medicare-billing. In using the tool, if you are 75% or above when comparing yourself to general ophthalmologists, you will want to use the code to ensure that you are compared to your peers.
Here's why
The new taxonomy code has important implications for:
• Assuring patient access to a sufficient number of retina specialists in health plan networks.
• Ensuring that appropriate subspecialty level information is considered by CMS/ other health plans.
• Making sure that programs that aim to assist patients in medical decision-making, such as Physician Compare, have subspecialty level information that allows for accurate comparisons.
Here's how to get started
The National Plan & Provider Enumeration System (NPPES), houses the unique identifiers for providers and health plans.
Select the code
Click on "Add Taxonomy"
Select Provider Type Code 20 (Allopathic & Osteopathic Physicians)

Select retina specialist taxonomy code 207WX0107X
It will appear like this:
Ophthalmology - 207W00000X [definition]
Retina Specialist - 207WX0107X [definition]
Enter the license numbers and states where you are licensed. You will probably use the same taxonomy code for all of the license entries.
Click "Save"
Some content on this page is restricted to access by members only.