2020 QPP Year 4 Snapshot
On November 1, 2019, the Centers for Medicare & Medicaid Services (CMS) released its 2020 Medicare Physician Fee Schedule (MPFS) and Quality Payment Program (QPP) final rule. The following is a summary of key provisions.
MIPS Exclusions
Physicians and groups fall under the low-volume threshold and are exempt from MIPS if they:
Bill $90,000 or less in Medicare Part B allowed charges for covered professional services payable under the MPFS, or
Provide covered professional services for 200 or fewer Part B-enrolled individuals, or
Provide 200 or fewer covered professional services to Part B-enrolled individuals
If you're exempt from MIPS for Performance Year 2020, you can choose to opt-in if you exceed 1 or 2 of the above criteria and receive a MIPS final score and a payment adjustment in 2022.
If you are not exempt and choose not to participate in 2020, you will receive a negative 9% payment adjustment in 2022. ASRS urges you to participate. Physicians who score 45 out of 100 total points will avoid the 9% penalty, and scores above this "performance threshold" of 45 points may receive positive payment adjustments, up to 9% and potentially more (see MIPS Scoring Details below).
Overview of MIPS for 2020
Performance Categories/Weight Contributing to Total Score
CMS rates MIPS participants in four performance categories: Quality; Cost; Promoting Interoperability; and Improvement Activities. CMS maintained the following weights for each of these categories in 2020:
Quality – 45%
Cost – 15%
Promoting Interoperability – 25%
Improvement Activities – 15%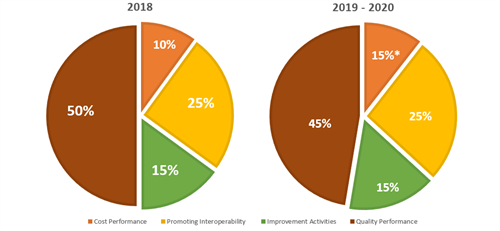 * If no patient costs are attributed in 2020, the 15% weight of the Cost performance category will shift to both the Quality category, making it 55% and Promoting Interoperability, making it 30%.
Performance Periods
Quality and Cost categories remain 1 full year (January 1 - December 31, 2020).
Promoting Interoperability (PI) and Improvement Activity categories remain any continuous 90-day period or longer - up to the full year.
Bonus Points
Small practices (15 or fewer eligible clinicians) that submit quality measures for 2020 still receive a bonus of 6 points to the Quality category score, not the final MIPS score.
Complex Patient Bonus – remains at up to 5 points added to final score based on the medical complexity of patients treated.
MIPS performance data for 2020 must be submitted by March 31, 2021.
MIPS Scoring Details for CY 2020
The payment adjustment for 2022 (based on 2020 performance) will range from -9% to +9%, plus any scaling to achieve budget neutrality, as required by law. Payment adjustments will apply to professional services paid under the Medicare physician fee schedule (PFS), excluding Part B drugs.
The threshold score required to receive a neutral (no penalty) or positive payment adjustment increased from 30 points in 2019 to 45 points in 2020 (and will further increase to 60 points in 2021). A score below 45 in 2020 will result in a negative payment adjustment in 2022.
Physicians who achieve a final score of 85 or higher will be eligible for an exceptional performance adjustment, funded from a pool of $500 million, applied on a linear scale so that higher scores receive a higher adjustment (from 0.5 to 10 percent).
Quality
Participants have the same requirement to report on at least 6 measures or a complete specialty measure set; one measure must be an outcome measure or, if none are applicable, a high priority measure. If fewer than six measures apply, report on each measure that is applicable. Individuals or groups can submit any combination of measures across collection types (electronic Clinical Quality Measures (eCQMs), MIPS CQMs (formerly "Registry measures"), Qualified Clinical Data Registry (QCDR) Measures, and Medicare Part B claims measures (only small practices)). The most recent version of the eCQM must be used.
Retina specialists have 16 relevant measures to report in 2020. CMS removed the Medicare Part B Claims Measure Specifications collection type from measure Q019 Diabetic Retinopathy: Communication with the Physician Managing Ongoing Diabetes Care for the 2020 MIPS performance period as benchmarking data shows this measure meets the extremely topped out definition for the Medicare Part B Claims Measure Specification collection type only; not the eCQM and MIPS CQMs Specifications collection types. The measure may still be reported using these two collection types.
Physicians still earn up to 10 points for each Quality measure reported. The data completeness reporting threshold was increased to 70 percent of all patients that meet the measure's denominator criteria, regardless of payer for the 2022 MIPS payment year, with a minimum of 20 cases per measure. If a measure has a benchmark and a physician meets the data completeness criteria, they receive 3-10 points based on performance compared to the benchmark. If a physician fails to meet the data completeness criteria in 2020, they receive will receive 0 points (small practices will continue to receive 3 points).
Performance improvement remains the same. Up to 10 points may be added for improvement based on percentage changes from year to year for physicians who fully participate in the Quality performance category. Improvement is not measure-specific but based on the entire category. Any improvement in 2020 compared to 2019 is added into the overall Quality score. For 2020 (2022 payment year), CMS will assign a Quality category achievement percent score of 30 for physicians who earned a Quality performance category score equal to or less than 30 in 2019. Thus, improvement scoring will not reduce, but only add to the overall quality score.
Quality Bonus Points:
2 bonus points for each outcome and patient experience measure and 1 bonus point for each other high priority measure (bonus awarded for the second outcome or high priority measure not submitted via CMS Web Interface). Capped at 10 percent of the total available measure achievement points.
1 bonus point (capped at 10) for each quality measure submitted using End-to-End Electronic Reporting (submitted by direct, log in and upload or CMS Web Interface ) from a 2015 edition certified EHR technology (CEHRT)
6 bonus points added to the Quality performance category score for physicians in small practices who submit at least one measure, either individually or as a group
"Topped Out" Measures
CMS uses a 4-year cycle for removing measures considered "topped out" (performance is so high and unvarying that meaningful measurement of change or improvement can no longer be achieved). Measures identified as "topped out" for two consecutive years will receive a maximum of 7 points in the second year. However, once a measure is extremely topped-out (e.g., an average mean performance between the 98th to 100th percentiles) it will be proposed for removal in the next rule-making cycle.
QCDR measures are excluded from the topped-out measure life cycle, but if a QCDR measure reaches topped out status, as determined during the annual QCDR measure approval process, it may not be approved for the applicable performance period. are evaluated on an annual basis and may be excluded if they are topped out. In the 2021 performance period, CMS will begin 2-year QCDR measure approvals (discretionary), but upon annual review, it may revoke the second year's approval the measure reaches topped out status.
Cost
Cost measures continue to be the Medicare Spending Per Beneficiary (MSPB) and total per capita cost for all attributed beneficiaries (TPCC) measures although attribution methodologies will be revised and retina specialists should be excluded. If you are not attributed costs for any patients, the cost category will be reweighted to both the Quality category and the Promoting Interoperability categories to weigh 55% and 30% respectively.
Performance improvement scores for all physicians remain at zero for 2020. Congress retroactively delayed implementation of improvement scoring in the Cost category until the 2022 performance year.
Promoting Interoperability
CMS maintained the new reporting for this category in 2020 with slight modifications to the measures and scoring. Physicians must report measures under four objectives that focus on patient care and interoperability of health data exchange with varying maximum points, up to a potential score of 100, unless an exemption applies. (See chart below) In addition to submitting measures, the attestation remains the same.
Promoting Interoperability 2020 Scoring (Verify Opioid Treatment Agreement bonus measure removed)
Objectives

Measures

Maximum Points

e-Prescribing

e-prescribing*

10 points

Bonus:

Query of Prescription Drug Monitoring Program

5 bonus points

Health Information Exchange

Support Electronic Referral Loops - Sending

Health Information*

20 points

Support Electronic Referral Loops - Receiving and Incorporating Health Information*

20 points

Provider to Patient Exchange

Provide Patients Electronic Access

to Their Health Information

40 points

Public Health and Clinical Data Exchange

Choose two:

· Immunization Registry Reporting*
· Electronic Case Reporting*
· Public Health Registry Reporting*
· Clinical Data Registry Reporting*
· Syndromic Surveillance Reporting*

10 points
* Exclusions are available
Hardship Exceptions (CMS will reweight the PI category to the Quality category if approved)
MIPS eligible clinician in a small practice
MIPS eligible clinician using decertified EHR technology
Insufficient Internet connectivity
Extreme and uncontrollable circumstances
Lack of control over the availability of CEHRT
Improvement Activities
In 2020 CMS will discontinue its policy to permit an entire group to receive credit for an improvement activity completed by only one physician. Although reporting is still based on attestation, at least 50 percent of a group's National Provider Identifiers (NPIs) must perform the same activity for any continuous 90 days in the performance period in the 2020 performance year. While 50 percent of NPIs in a group must perform the same improvement activity for a continuous 90-day period, they do not need to perform the activity during the same 90-day period.
Additional Resources