William Sanderson Grizzard, MD: 1946–2011
Early ASRS leader excelled in research and clinical practice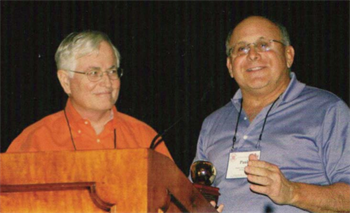 Sandy Grizzard (left) receives the Mentor's Lecture Award from Paul Tornambe at the Third Annual Masters Meeting in Jamaica, February 2007. At this meeting, Sandy was also honored with the first ASRS Lifetime Achievement Award.
William Sanderson "Sandy" Grizzard passed away peacefully at St. Joseph's Hospital in Tampa, Florida early on the morning of December 8, 2011. He was a prominent and well-respected ophthalmologist and retina specialist locally, nationally, and internationally.
Sandy was born and raised in Lakeland, Florida, and graduated from Emory University and the University of Miami School of Medicine. He did his residency training in ophthalmology at the University of South Florida College of Medicine, after which he traveled widely, obtaining fellowship-level training in ophthalmic genetics and retinal disease with August Deutman in The Netherlands. He went on to study vitreoretinal surgery with George Hilton and more retinal genetics with James O'Donnell, both in San Francisco.
In 1978, he joined the faculty of the University of South Florida, and soon after assumed directorship of the vitreoretinal service and the residency training program. Sandy established a private practice in Tampa in 1983, but continued his support of the university teaching program, eventually attaining the rank of full clinical professor at USF.
His style of clinical practice was unusual for the times, as he incorporated research into his private practice. As a result, he had 67 scholarly publications, 132 medical professional presentations, 3 NIH grants and 12 private research grants to his name. He also pioneered pneumatic retinopexy with George Hilton and Paul Tornambe.
Sandy took an avid interest in his patients. His patient-centered practice was based on the principles of ethical care and sincerity. As such, his practice grew in reputation and eventually expanded to include locations in Lakeland, Plant City, and St Petersburg, Florida. He reveled in treating and diagnosing difficult cases; consequently, his advice was often sought for these individuals.
As medicine in general became more complex, Sandy introduced modern business techniques such as service marketing, accrual accounting and 360-degree evaluations for the entire staff. To help him to better understand the economic issues of medicine, Sandy obtained a master's degree in economics from USF. He shared his insight in his blog, AdamSmithMD.com.
Sandy's abilities were recognized early and he was admitted to the academically exclusive Retina Society and the Club Jules Gonin (the European Retina Society). He always enjoyed being a source of information and teaching for the young retina specialists coming out of training. His outspoken honesty and frankness, coupled with keen sensitivity to the needs of others, made him a natural leader.
He became the fourth president of the Vitreous Society —now the American Society of Retina Specialists—and remained actively engaged in the growth and maturation of the organization. Because of the inclusive membership policies that Sandy championed, ASRS has become the largest and most influential retinal organization in the US and perhaps in the world. In 2007, Sandy received the ASRS's first Lifetime Achievement Award, as well as the Mentor's Lecture
Award at the Third Annual Masters Meeting.
Sandy became aware of his myelofibrosis syndrome 5 years ago, but continued to fight it valiantly and to see patients until September 2010. He and his long-time partner, Mark Hammer, recruited Ivan Suñer to help carry on the practice. Sandy's honesty, ethics, and intellectual curiosity remain an integral part of the practice he originated. He leaves a professional legacy of a vital practice and a loving staff.
Sandy is survived by his sons Scott, 32, and Christopher, 24, and his loving and devoted wife Leonetta Grizzard, all of Tampa.
—Mark Hammer, MD, MBA
Updated: December 8, 2011