Advocacy & Practice Updates — Advocacy & Practice
The Ins and Outs of Patient Assistance Programs
Editor's note
While the access programs are invaluable to help patients with commercial insurance or traditional Medicare, be careful with patients with managed care plans like HMOs or Medicare Advantage programs.
These insurers typically will agree to pay for the 70% of the expensive drugs, allowing the access program to pay the 30%. However, 70% of a large number is a very large expense to the insurer, and many will drop any doctor who prescribes any drug other than Avastin.
February 27, 2014 -- Back to Retina Practice News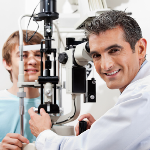 Patients with chronic retinal diseases like AMD often can't afford their co-pays for injectable prescription drugs. Privately insured patients, including those who purchase insurance through Obamacare's insurance exchanges, can seek assistance either from independent programs or directly from pharma-sponsored programs, such as Lucentis Access Solutions, Genentech Access to Care Foundation, Lucentis Copay Card, Eylea for You/Eylea Copay Card, and JetreaCare. (To learn more about pharma-sponsored options, see Patient Assistance Programs Provide Optimum Care for Patients, Treatment Options for Retina Specialists.)
Medicare and Medicaid patients, however, are not eligible for direct assistance from pharmaceutical companies and can receive funding only from the growing number of independent patient assistance programs (PAPs).
For many patients, the PAPs provide a safety net by subsidizing their co-pay. Patients and retina specialists win because patients can get the vision-saving drugs they need. But there's a lot of benefit for the pharmaceutical companies as well.

PAP/pharma relationships drawing scrutiny
Some independent PAPs have recently been put under the spotlight because they are heavily funded by the pharmaceutical industry. (See the December 18, 2013, New York Times article, "Drug Maker's Donations to Co-Pay Charity Face Scrutiny," which reported that the Chronic Disease Fund [CDF] has come under fire for showing improper favoritism toward one of its funders, Questcor Pharmaceuticals, maker of a costly drug for immune diseases.)
By contributing to an independent PAP, pharma not only receives a sizable tax deduction, but also ensures patients who could not otherwise afford the co-pay to have access to the company's expensive drugs for which the patient's insurance pays the bulk of the price.
Nonetheless, PAPs can have an important role in helping fund chronic care. As long as a pharmaceutical company does not stipulate that its donations be used only to pay for its own drugs, its contributions to a PAP are legal. PAPs also should not steer patients to a specific drug.

What can independent PAPs offer retina patients?
Several independent PAPs offer benefits for patients with Medicare, Medicaid, and private insurance:
The Patient Access Network (PAN) Foundation (www.panfoundation.org) has provided 180,000 patients more than $300 million in copayment assistance since 2004. Their programs cover 50 diseases, including AMD, diabetic macular edema (DME), retinal vein occlusion (RVO), and uveitis.
The National Organization for Rare Disorders (NORD) (www.rarediseases.org) has administered PAPs since 1987. It is a federation of voluntary health organizations dedicated to helping people with orphan diseases and assisting the organizations that serve them. NORD offers assistance to patients with RVO and uveitis.
The Chronic Disease Fund (CDF) (www.cdfund.org) has provided more than $600 million in co-pay assistance since 2003. Its Good Days program offers assistance to patients with AMD and RVO.
The Patient Assistance Programs table, also available on the ASRS patient portal at www.asrs.org/PAP, outlines the non-pharma-sponsored PAPs available for patients with AMD, DME, RVO, and uveitis.
Living with a chronic retinal disease has enough challenges—PAPs can help your patients by easing the financial burden of long-term treatment.
Find more patient information at www.asrs.org/PAP.