Joe Ignatius
Expert Care by Retina Specialist a Game Changer for Chicago Sports Fanatic with DME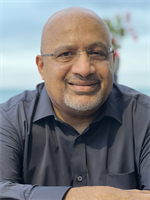 As a Chicago sports super fan, Joe Ignatius can often be found cheering on his hometown teams, whether it's a day at the ballpark rooting for the Cubs or White Sox or hanging out at a Chicago Bears tailgate.
So, when his eyesight worsened after being diagnosed with diabetic macular edema, he knew he had to make his health and caring for his retinal condition a priority or he risked missing out on one of his favorite things in life, watching his beloved Chicago sports teams.
When he was diagnosed with Type 2 diabetes 20 years ago, Joe began regular appointments with a variety of doctors, including an endocrinologist, and made sure not to skip his yearly dilated eye exam.
While Joe did what he could to keep his diabetes under control, he began to notice changes in the vision of his left eye 8 years ago. His vision seemed a bit blurry and his eyes were sensitive to light while driving at night.
An eye exam with his eye care professional led to a referral to retina specialist, Dr. Timothy Flood. After a comprehensive dilated eye exam and specialized imaging, Joe learned that he was experiencing diabetic macular edema, swelling and fluid building up in his left eye, which was causing his symptoms. His retina specialist developed a tailored treatment plan for him that included monthly eye injections, or intravitreal injections, that could help improve his vision.
"Am I going to be blind? All of these emotions go through your head when you learn you have a condition that impacts your eyesight," Joe said. "But Dr. Flood walked me through step by step. He told me I had to get control of my diabetes if I wanted to keep my vision and that a treatment was also available to help save my sight."
The regular eye injections helped improve Joe's eyesight, but he still struggled with some aspects of managing his diabetes. And juggling a busy career also took a toll, leading Joe to miss injections at times because of his travel commitments. Soon, his sister, a physician, encouraged him to re-commit himself to the treatments and his health.
"You don't know what you've got until it's gone," Joe said. "When I was missing treatments and my vision was affected, I thought about the things I would miss out on like watching sports with my family and I thought, oh man, I have to get my treatments and do what the doctor says."
Today, Joe is prioritizing his health and his vision. He's walking up to 15,000 steps a day and has lost weight. With regular eye injections, Joe's vision is nearly perfect. After Dr. Flood retired, Joe's treatment transferred to retina specialist, Dr. Vivek Chaturvedi, whom Joe credits with making his eye injections comfortable and pain-free.
These days, Joe is looking to his future. He is getting married soon, and he and his fiancé hope to travel to all 7 continents and see the 7 Wonders of the World, something he could not experience without healthy vision.