David Bragg
Eye Care Exec Partners with Retina Specialist to Overcome Retinal Detachments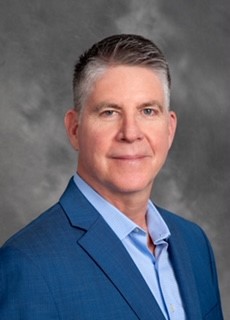 David Bragg was giving a company-wide presentation when it started "snowing" in his right eye. That morning, before boarding a flight to St. Louis, David noticed a faint, arching light in his vision, but chalked it up to not sleeping well. Hours later he was three minutes into his presentation when he noticed what seemed like snow or grey matter filling his eye from the bottom up, causing him to lose vision. He quickly finished up, and called an ophthalmologist friend who recommended that he see a retina specialist right away.
David had experienced a retinal detachment, in which the retina detaches from the back wall of the eye, separates from its blood supply and no longer functions properly.
"Be proactive about managing your eyesight. I told my siblings to go get their retina exam and all of my children have had theirs ... I'm not sure if I could have prevented my retinal detachments, but now I pay very close attention to what's happening with my eyes, everyone should."
Since then, he has experienced several more retinal detachments and tears due to the development of scar tissue on his retina (a condition known as proliferative vitreoretinopathy) requiring multiple surgeries and numerous laser treatments. Through it all, his retina specialist ASRS member Dr. Jay Stallman, has helped David proactively manage his condition to preserve his sight.
"Dr. Stallman is amazing. He was honest and prepared me mentally for the fact that I might experience additional tears and detachments throughout my life," David said. "He reassured me, though, that he could help me manage my condition and that I was getting the best treatment available, which gave me real comfort."
Now David pays very close attention to his vision and calls Dr. Stallman immediately if he experiences symptoms such as flashes of light or floaters. He is able to get in for evaluation and treatment quickly, which has helped him preserve a significant amount of vision. This has allowed David to continue working, playing golf, gardening and enjoying his family including his wife, five daughters and three grandchildren.
Ironically, despite working in the vision industry for decades, David wasn't always on top of taking care of his eyes before his retinal detachments, only getting a dilated retina exam every 2-3 years. Today he encourages his family and friends to prioritize their sight.
"Be proactive about managing your eyesight. I told my siblings to go get their retina exam and all of my children have had theirs," David said. "I'm not sure if I could have prevented my retinal detachments, but now I pay very close attention to what's happening with my eyes, everyone should."