Macular Degeneration Awareness Posters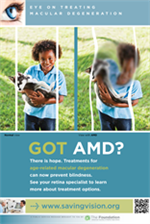 Eye on Treating AMD poster
The American Society of Retina Specialists has mailed more than 900 "Got AMD?" poster sets nationwide, and a limited quantity still remains. Request your free set while supplies last or download the printable versions below.
To build awareness of age-related macular degeneration, or AMD, the Foundation of the American Society of Retina Specialists provides free health awareness posters for display on community bulletin boards and in health clinics, senior centers, and physician offices.
This 2-poster set demonstrates how age-related macular degeneration distorts vision and encourages people who experience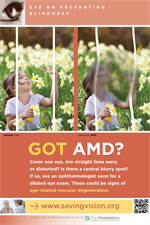 Eye on Preventing Blindness poster
this vision loss to schedule an eye examination or, if they have already been diagnosed, to learn about treatment options.

Bring the posters to your community
'Love the posters! A million thanks!'
—St. Luke's Place, Baltimore, Maryland
---
Did you know?
Age-related macular degeneration affects millions of Americans. It is the leading cause of blindness in people over age 65.