Low-Vision Apps and Resources
Spotlight Text App
Spotlight Text is the first eBook reader for individuals with vision loss.

The app was developed by ASRS member Howard Kaplan, MD, in conjunction with the American Foundation for the Blind and the Lighthouse Guild for the Blind. Spotlight Text is designed to be used on an iPad, which offers a high-contrast screen that many low-vision patients find easier to read than a standard paper book.
Functions and features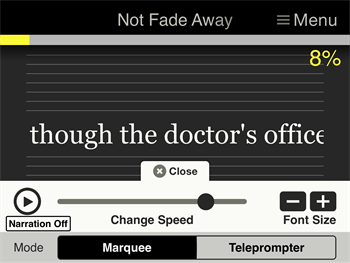 Figure 1: In marquee mode, Spotlight Text scrolls horizontally. Users can adjust the font size as well as the speed of text scrolling in either mode.
Spotlight Text scrolls each line of text so users can isolate a word or group of words.
Users can choose "marquee" scrolling with text moving from right to left as a single line as shown in Figure 1.
Also available: "teleprompter" scrolling with text lines moving from bottom to top as shown in Figure 2.
Spotlight Text users can adjust the size of the text and the speed of scrolling to optimize reading. (See Figure 1.)
Manual swiping from bottom to top allows users to move more rapidly through the text.
The app also allows Bluetooth synch to braille readers and can be connected to larger screens, if needed. The "narration" text-to-speech conversion provides reasonably accurate pronunciation, and highlights in yellow the word being read so that patients with more profound vision loss can simultaneously read and listen.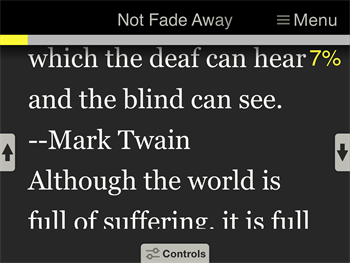 Figure 2: In teleprompter mode, Spotlight Text features vertical scrolling.
More than 300,000 books available
Spotlight Text links to Bookshare.org, a non-profit library offering more than 300,000 books to patients certified by their ophthalmologist, optometrist, therapist, or librarian to be unable to read traditional print books.
Bookshare.org operates under US copyright law exceptions for people with qualifying disabilities; it offers classics and New York Times bestsellers, as well as a number of textbooks for children with visual disabilities. The service is free for children and US veterans who qualify for Bookshare, and is available to other adults for $50 annually following a $25 setup fee.
How to purchase Spotlight Text
Purchase Spotlight Text for $29.99 at https://itunes.apple.com/us/app/spotlight-text/id887965943.
Each time Spotlight Text is purchased through this site's link, a $10 donation will be made to the Foundation of the ASRS, and $10 will go to Apple to support the App Store.
Other charitable organizations participating with Spotlight Text include the American Academy of Ophthalmology (AAO) Foundation, Foundation Fighting Blindness, Discovery Eye, Bookshare, Daisy Consortium, and Challenge Aspen.
A free trial version of Spotlight Text will be available soon from the Apple App Store so low-vision patients can try it before purchasing the app.
To learn more, visit: www.spotlighttext.com
---
Patient Organizations
American Diabetes Association® - Focus on Diabetes™
diabetes.org/asrseyehealth

American Macular Degeneration Foundation
www.macular.org
(888) 622-8527
Foundation Fighting Blindness
www.blindness.org
(888) 394-3937
Hadley
www.hadley.edu
(800) 323-4238
Lighthouse International
www.lighthouse.org
(800) 829-0500
Macula Vision Research Foundation
www.mvrf.org
(866) 462-2852
Macular Degeneration Association
www.macularhope.org
(855) 962-2852
MD Support
www.mdsupport.org
(888) 866-6148
Prevent Blindness
www.preventblindness.org
(312) 363-6001
The Support Sight Foundation
www.supportsight.org
(888) 681-8773
Professional Organizations
American Academy of Ophthalmology
www.aao.org
American Society of Retina Specialists
www.asrs.org
(312) 578-8760
Smart Sight
Low vision and vision rehabilitation services from the American Academy of Ophthalmology
www.aao.org/eye-health