First US Patients Receive Commercial Implants of FDA-Approved 'Bionic Eye'
Thursday, January 30, 2014
Second Sight Medical Products Inc. (Symlar, CA) has announced the first surgical implants of the Argus® II Retinal Prosthesis System—a "bionic eye"—in the United States since the system's 2013 US Food and Drug Administration (FDA) approval.
The systems were implanted in 2 retinitis pigmentosa (RP) patients at the University of Michigan's Kellogg Eye Center. RP is a rare, hereditary disease that causes the light-sensitive cells of the retina to degenerate, eventually leading to blindness. Ultimate outcomes of the patients' Argus II implants will not be known until they complete rehabilitation training to use the device.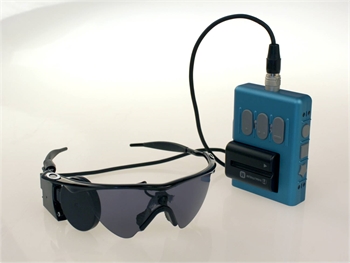 The Argus II system
Kellogg Eye Center has selected additional patients to receive the implant. It is 1 of 12 centers in the United States that accepts Argus II consultations. Argus II is the first and only FDA-approved retinal prosthesis system.

For further reading
Medicare approves Argus II for inpatient and outpatient benefits
Family inspiration led retina specialist to develop the world's first 'bionic eye'
Updated January 30, 2013