Medicare Approves Argus II for Inpatient and Outpatient Payments
Friday, August 16, 2013
Second Sight Medical Products, Inc. (Symlar, CA) has announced that the Argus® II Retinal Prosthesis System has been approved by the Centers for Medicare and Medicaid Services (CMS) for both inpatient and outpatient settings of care, beginning October 1, 2013. These payments are designed to support timely access to innovative technologies for Medicare beneficiaries.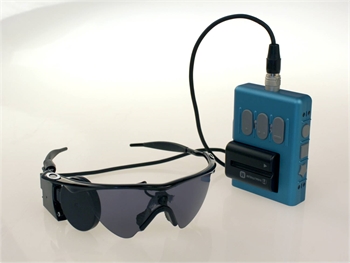 The Argus II system
This is very positive news for the roughly 100,000 Americans affected by retinitis pigmentosa, an inherited disease that often results in almost complete blindness. The Argus II system—or "bionic eye"—is the first implanted device to treat adults with vision loss caused by retinitis pigmentosa.
This life-changing medical breakthrough, which gained FDA approval earlier this year, was developed by American Society of Retina Specialists leader Mark S. Humayun, MD, PhD, who devoted
25 years to its development.