What's new
Mar 4, 2014 Clinical Updates
Mar 4, 2014 Industry News
Feb 26, 2014 Clinical Updates
Feb 12, 2014 Advocacy & Practice Updates
Feb 12, 2014 Industry News
Feb 10, 2014 Clinical Updates
---
Retina Times
2013 Winter Issue, Vol. 31, No. 5, Iss. 52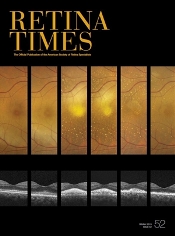 In this issue:
From the Editor's Desk
Like Hell It's Minimally Invasive! Let's Not Trivialize What We Do

Clinical Trials: Future Pathways
Emixustat Hydrochloride: New Hope for Atrophic AMD?

International Corner
Global Trends in Retina Symposium Explores Practice Patterns Worldwide
Block Time
Should Vitrectomy Be Combined With Cataract Surgery?

Road Test
Road-Testing the Alcon Ultravit® High Speed Vitrectomy Probe
Retinomics Perspectives
Should Partnership Agreements Include a Mandatory Retirement Age?