What's new
May 21, 2013 Pediatric Retina
May 17, 2013 Surgical Retina
May 8, 2013 Research & Technology
May 8, 2013 Surgical Retina
---
Educational events
On-Demand Webinar: Intravitreal Injection Techniques: Maximizing Comfort and Minimizing the Risk of Endophthalmitis

Upon completion of this webinar, you will be able to:
Evaluate the various techniques for ocular preparation prior to intravitreal injection and implement strategies to minimize patient discomfort and maximize prevention of endophthalmitis.
Discuss the impact of unique aspects of the ocular preparation as regards patient perception of discomfort and the incidence of endophthalmitis.
Summarize the implications of the recent clusters of endophthalmitis and their relationship to compounded intravitreal pharmacologic agents.


Register for eventASRS Member? Sign in to register at member rates.
---
ASRS Community







Join the latest discussions.
---
Retina Times
Spring 2013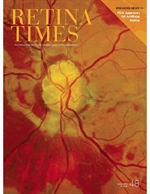 Volume 31, No. 2
See articles »Issue 48
FDA Approves World's First Artificial Retina

Per-Patient Compounding Prescription Regulations: The End of the Road for Avastin?
Using Gene Therapy to Treat Inherited Degenerative Reinopathies
---
ASRS feeds
Subscribe and receive automatic updates from the ASRS website.