Saving vision is our mission
More closely aligned than ever before, the American Society of Retina Specialists (ASRS) and the Foundation for the American Society of Retina Specialists (FASRS) are entering into a new era of partnership for patients. ASRS will establish a vision and agenda for the profession's future, while the Foundation will serve as the fundraising engine to make that vision a reality.
ASRS and the Foundation are building a community united by a single goal: to improve the lives of people with retinal diseases. By focusing the expertise of retina specialists around the world, we can create innovative programs to preserve the precious gift of sight.
Contribute to the Foundation and help us as we seek to turn today's ideas into tomorrow's cures.

Foundation makes nationwide impact with AMD public awareness posters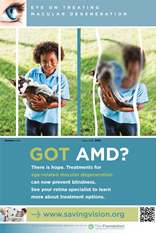 In support of its ongoing Saving Vision patient education initiative, the Foundation funded the development and distribution of "Got AMD?" public awareness posters to cast a light on this disease.
Since their release in February 2013, ASRS has mailed more than 800 sets of posters to member practices, senior citizens facilities, low-vision rehabilitation clinics, community health centers, and Veterans Administration facilities across the country—all by request!
This eye-catching 2-poster set demonstrates the distorted vision of someone living with AMD and encourages people to get an examination or seek treatment.

Support your profession's Foundation
Activities such as the "Got AMD?" poster campaign would not be possible without the generosity of retina specialists. Donate to FASRS today and help improve the quality of life of all people with retinal diseases.

President's message
"Your volunteer spirit can lead the Foundation to new heights." — Suber S. Huang, MD, MBA
'Thank you for taking to the time to educate the public about this disease.' — social worker, Sioux Falls VA Medical Center, South Dakota