Annual Meeting
ASRS 31st Annual Meeting
August 24 - 28, 2013
Sheraton Centre Toronto | Toronto, Ontario, Canada
---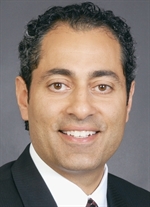 Tarek S. Hassan, MD
Program Chair
and President-Elect
Dear Colleague,
I am excited to invite you to attend the 31st Annual Meeting of the American Society of Retina Specialists in Toronto, Ontario, Canada. With over 2400 members in 55 countries, the ASRS continues to grow in size, scope, and vision, and is committed to its ever-expanding involvement in education, service, outreach, and advocacy. I hope to see all of you at this year's meeting. We look forward to it reflecting the talent and expertise of our members, and offering the very best educational opportunities and social interactions in which friends and colleagues from around the world will share to promote the advancement of retinal science.
The Sheraton Centre Toronto Hotel will be the host venue for the meeting from Saturday, August 24 through Wednesday, August 28, 2013. We look forward to an exciting exchange of new information and a celebration of our collective accomplishments. The meeting will incorporate many of the educational endeavors you have come to enjoy including scientific sessions that will highlight the original research of our membership, panel discussions that will foster interesting debates about controversies in our field, medical and surgical case conferences that will highlight the unusual and exciting nature of challenging clinical situations, a special interest group lunch that will enhance one-on-one expert and attendee interaction, the film festival that will celebrate the artistry and creativity of our membership, and poster presentations with a wine and cheese reception that will expand our avenues for learning in a relaxed and interactive social setting. We will again offer sub-specialty review courses starting earlier on Saturday morning and instructional courses that return by popular demand to Tuesday afternoon. New this year is the "paper-on-demand" format, which will allow you an opportunity to view additional presentations, not to be seen on the main podium but rather to be viewed anytime, anywhere at your leisure on the society's web portals and onsite at viewing stations and other outlets. Additionally, we are delighted to debut the Retinal Innovation Forum on Monday afternoon which will provide you an opportunity to hear about the most cutting-edge, early-stage research and development in our field from key players in retina, science, technology, and business. It will bring together innovation, experimentation, venture, and commercialization to provide a glimpse of the future of retina and industry.
Toronto is one of the world's great cities. It boasts restaurants, shopping areas, live entertainment, and cultural and recreational activities that are among the finest anywhere. By coming to the ASRS 31st Annual Meeting, you will become part of the conversation and be able to celebrate another remarkable year for our specialty. I am excited to welcome you to your Annual Meeting.
See you in Toronto!

Tarek S. Hassan, MD
Program Chair and President-Elect
---
IMPORTANT DATES AND DEADLINES

March 1
Membership application deadline to register and submit abstract as a member
March 19
Last day for first early-bird registration
March 25
Last day for submission of papers, posters, papers on demand, instructional courses, and medical/surgical cases
April 5
Film festival entries due
May 17
Notification of acceptance for papers, posters, papers on demand, instructional courses, film festival entries, and medical/surgical cases
May 28
Last day for second early-bird registration
June 3
Last day for delivery of all film festival entries
July 25
Last day to cancel meeting registration and receive refund, minus $125 administrative fee
August 1
Last day to submit electronic files for e-posters and upload papers on demand
August 5
Last day to pre-register for meeting
August 24–28
Meeting dates