Annual Meeting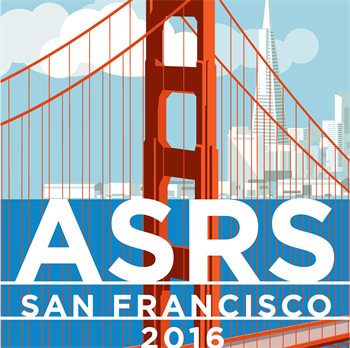 Tuesday, August 9 - Sunday, August 14, 2016
San Francisco, California
Marriott Marquis
---
Dear Colleague,
It is my pleasure to invite you to attend the 34th Annual Scientific Meeting of the American Society of Retina Specialists in San Francisco, California, Tuesday, August 9th through Sunday, August 14th. It promises to be the premier educational meeting of the year. As our membership continues to grow worldwide, now 2700 strong in the United States and 59 countries, so do our efforts to expand meeting content to provide you with cutting-edge and inspirational insights on retina science and practice from across the globe.
This year's meeting will be held at the Marriott Marquis San Francisco and will feature many of the networking and educational opportunities you have come to enjoy, including scientific sessions, the retina case conference, papers on demand, electronic posters, and the film festival. We are also pleased to have international and expert panels on the agenda to provide forums for retina thought leaders to present data and engage in a lively discussion. Also -- back by popular demand -- compelling 3D videos, which will be showcased for your enjoyment on dedicated kiosk monitors.
Our meeting program will kick off with a sampling of premier instructional courses on Tuesday, August 9th from 1:00-5:15 PM. In addition, select instructional courses will be presented each day of the general session from Thursday, August 11th through Saturday, August 13th.
When making your travel arrangements, please plan to arrive by noon on Tuesday to enjoy the Instructional Courses and Welcome Reception at the new Museum of Modern Art. The museum, one of the largest of its kind in the country, will be welcoming visitors through its doors for the first time in May 2016, marking one of the most exciting openings in recent San Francisco history. ASRS is pleased to be one of the first groups to host a private event at this unique venue.
The Gala Dinner will be held on Saturday evening, August 13th at the beautiful and historic Palace Hotel. This newly renovated landmark pairs original architecture and authentic elements with classically inspired, modern décor. After dinner, guests will return to the Marriott Marquis, our host hotel, to enjoy camaraderie and conviviality at the Umbo Lounge. Please mark your calendar and consider these must-attend events when making travel arrangements.
Please join us for the 34th ASRS Annual Meeting for a rich educational experience that will allow you to cultivate personal relationships with colleagues from around the world and learn about developments and innovations in retina, while enjoying all that San Francisco has to offer from haute cuisine, world-class entertainment, and breathtaking topography.
I look forward to seeing you in San Francisco.
Best regards,
Mark S. Humayun, MD, PhD