Annual Meeting
ASRS 32nd Annual Meeting
August 9-13, 2014
San Diego, California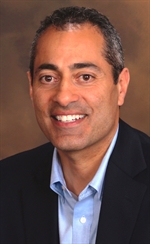 Dear Colleague,
I look forward to seeing you at the 32nd Annual Meeting of the American Society of Retina Specialists in San Diego, California! On the heels of one of the most highly attended Annual Meetings in our history last year in Toronto, we seek to build upon past success as we showcase the breadth and depth of our ever-expanding talented and diverse membership. The society continues to grow, and is now made up of over 2500 members from 55 countries. Through the collective educational, service, outreach, and advocacy efforts of all of you, the ASRS has truly come to represent "all things retina" in North America and around the world. In keeping with ASRS tradition, this year's meeting will highlight the free exchange of innovative scientific ideas in an environment that will perpetuate the spirit of collegiality, openness, and inclusion for which the society stands, but will do so in a more interactive manner and on a larger global level. Through a variety of scientific sessions, as well as formal and informal social interactions, we look to advance retinal science in an educational setting that will foster lasting professional and personal relationships with your colleagues.
The Hilton Bayfront Hotel will be the host venue for the meeting that will begin in the morning on Saturday, August 9 and continue through the morning of Wednesday, August 13, 2014. The core of the meeting will focus on scientific sessions that will highlight the original research of our membership and present information and clinical trial updates that we all need to know to provide optimal care for our patients. Our members will employ a variety of educational formats to present their work and elaborate on the current state of retinal practice including live podium presentations, papers-on-demand that can be viewed anytime at your leisure via the Society's web portals and on-site viewing stations, and poster presentations which will be enhanced by a wine and cheese reception to maximize group interaction in a relaxed environment. The ever-popular medical and surgical retina case conferences will take place Saturday afternoon during which distinguished experts will inform and entertain us with presentations of their interesting and challenging cases. An extensive offering of Instructional Courses will return to satisfy many specific educational interests, and the 16th Annual Film Festival will return to provide its unique avenue for members to express their creativity and artistry.
This year we are launching exciting new initiatives to increase the involvement of as much of the membership as possible in creating membership-driven content for the Annual Meeting. With an effort not done before at any meeting, we will survey our entire society's membership to specifically choose the most popular topics of interest upon which to base numerous panel discussions and debates that will be interspersed throughout the meeting. Furthermore, on Monday afternoon, we will debut "Retina Around the World", a session of lively debates, discussions, and even competitions that will involve many of our members from both North America and the rest of the world as we explore the myriad of controversies and differences in the ways retinal disease is approached and treated across the globe. Highly interactive, in-depth, specific cutting-edge instructional sessions, presented in small intimate sessions to maximize discussion and networking, will round out the meeting agenda.
San Diego is known for its wonderful year-round climate, described as "the most perfect weather in America". It is a safe and beautiful city with a natural deep-water harbor, extensive beaches, and a vibrant arts and cultural community. The hotel is ten minutes from the San Diego airport and is conveniently located within walking distance of Southern California's premier dining, shopping and entertainment district - the Gaslamp Quarter - where you will find a truly eclectic blend of food, fun, and diversity within one of San Diego's most historic areas.
Come to the 32nd ASRS Annual Meeting and experience the richness of the educational experience, the friendship and camaraderie of your colleagues from around the world, and the many wonderful facets of "all things retina". Welcome to your Annual Meeting.
See you in San Diego!

Tarek S. Hassan, MD
President Elect and Program Chair
New for this year's Annual Meeting!
We are pleased to announce several exciting enhancements including:
Hot topic panels:

Membership-driven content, above and beyond traditional paper and poster presentations, presented during lively and interactive discussions. Through recent surveys, we have identified the most commonly requested "topics of interest" that the membership would like to see discussed at the meeting. Members should look for a follow-up survey in early April that will request specific questions in multiple topic areas. Panel moderators will coordinate discussions among leading experts to provide answers to your most pressing questions.

Socioeconomic panel:

An expert panel of the leading voices in retina and all of ophthalmology will address your specific questions related to this ever-changing and often confusing arena. Members will receive a survey in mid-April to solicit specific questions for the panel. We hope you will take away valuable pearls that can be applied to practice immediately and will gain a comprehensive and up-to-date understanding of the socioeconomic issues in our field.

Retina Around the World:

This exciting new international symposium will bring together representatives from nearly 30 multi-national, regional, and national societies around the globe to discuss and debate a variety of medical and surgical topics, cases, and videos. We look to highlight the similarities and differences in the practice of retina around the globe in this completely unique interactive forum.

Hands-on labs:

You will have an opportunity to directly engage with the latest techniques and equipment in the field of retina in this new symposium that will highlight how and why various specific technologies are employed in the care of our patients. A variety of vitreoretinal topics will be covered in sessions that will combine didactic discussion with hands-on exposure to the latest in vitreoretinal surgery, imaging, visualization systems, lasers, and EMR.