Compounding/Preserve Access to Avastin
Compounding
In 2012, a fungal meningitis outbreak linked to tainted sterile compounded drugs from the New England Compounding Center brought about an evolution that has transformed the compounding industry.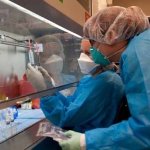 The outbreak prompted the U.S. Food and Drug Administration (FDA) to tighten regulations on compounding pharmacies and spurred state pharmacy boards to review their compounded medication regulations. Numerous state boards of pharmacy began requiring individual patient prescription for compounded medical orders putting access to sight-saving Bevacizumab (Avastin®) in limbo for patients who rely on it for effective off-label treatment for age-related macular degeneration (AMD) and other conditions.
In 2013, the Drug Quality and Security Acts was signed into law, creating a new category of more highly-regulated compounding pharmacies known as 'outsourcing facilities' (or 503Bs) and giving the FDA new oversight authority for the compounding of prescription medications. As part of their enforcement of the law, the FDA is now mandating patient-specific prescription for all drugs compounded at traditional compounding pharmacies (known as 503As), further threatening patient access to compounded drugs.
ASRS launches Take Action to Preserve Avastin
A new concern emerged with the FDA's February 13, 2015 introduction of its 'Draft Guidance on Mixing, Diluting or Repackaging Biological Products Outside the Scope of an Approved Biologics License Application,' which proposes excessively short beyond-use dates (BUDs) for traditional compounders and outsourcing facilities that essentially puts bevacizumab out of reach entirely for retina specialists and their patients who rely on it for sigh-saving treatment.
In response ASRS launched 'Take Action to Preserve Avastin,' a grassroots campaign that generated 300 unique member letters urging the FDA to maintain availability of repackaged bevacizumab by setting aside arbitrary proposed BUDs and focusing on the science. In fact, extensive clinical research summarized in peer-reviewed literature has shown that repackaged bevacizumab remains stable, sterile, and efficacious with BUDs longer than those proposed by the FDA when standardized aseptic procedures are followed.
In June 2015 ASRS, AAO and others urged members to support both congressional and senatorial sign on letters to help increase the BUDS. As we await the final rule, ASRS continues to work with major stakeholders to help guide FDA policy to preserve access to compounded and repackaged drugs -- most notably bevacizumab.
Advocacy timeline
Click blue links for information
FDA Releases Revised Draft Guidance on Repackaging Biologics Providing Pathway to Extend BUDs Jan. 12, 2017
As Compounding Obstacles Increase, ASRS Voices Concerns and Additional Recommendations to New FDA Compounding Chief - June 8, 2016
New FDA Guidance Requires Patient-Specific Prescriptions for Drugs Compounded by Traditional Compounders for Office Use - April 20, 2016
ASRS Urges USP to Stick with Science for Establishing BUDs - February 2, 2016
Avastin Coding Changes in Effect for 19 States, 3 Territories - January 6, 2016
ASRS joins AAO and ASCRS in grassroots campaign in support of senatorial sign-on letter urging the FDA to abandon its one-size-fits-all approach to repackaged biological products - including Avastin. - June 25, 2015
ASRS joins AAO and ASCRS in a grassroots campaign in support of congressional sign-on letter urging FDA to allow appropriate BUDs for compounding or repackaging drugs with history of safe and efficacious use over longer time periods. - June 9, 2015
FDA comment period ends and access to Avastin hangs in the balance. - May 20, 2015
ASRS submits its official comment letter to FDA - May 19, 2015
ASRS President Tarek Hassan, MD, weighs in on the FDA's proposed BUDs in Retina Times. - May 7, 2015
ASRS leaders make the case for longer BUDs during official FDA listening session. FDA concedes Avastin is unique in the field of biologics. - April 16, 2015
FDA releases 'Draft Guidance on Mixing, Diluting or Repackaging Biological Products Outside the Scope of an Approved Biologics License Application' - February 13, 2015
ASRS attends FDA public forum with other physician groups - June 26, 2014
ASRS launches Take Action to Preserve Access to Avastin campaign, generating 300 unique member comment letters to the FDA encouraging longer BUDs. - March 16, 2014
ASRS launches Take Action to Preserve Access to Avastin campaign, generating 300 unique member comment letters to the FDA encouraging longer BUDs. - February 18, 2014
Ophthalmology Fighting for a Seat at the Table as FDA Implements Compounding Regulations - February 16, 2014
ASRS Urges Congress to Protect Patient Access to Compounded Drugs - December 23, 2014
ASRS Launches Updated Compounding Pharmacy Questionnaire to Assist Members in Evaluating Compounders - September 24, 2014
FDA Guidance on Compounded Drugs Limits Distribution for Office Use to Approved Outsourcing Facilities - July 2, 2014
Obama Signs Drug Quality and Security Act, creates a new category of compounding pharmacies known as "outsourcing facilities" or "503bs" and gives FDA new authority over the compounding of prescription medications. - November 30, 2013
Related scientific research
Resources