ASRS Observership Program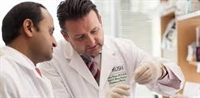 The ASRS Observership Program offers members a shadowing opportunity at hosting institutions across the globe. Participants will be able to watch procedures and surgeries, attend patient rounds and teaching conferences, and take part in other day-to-day activities.
The ASRS has organized the Observership Program to help match Society members interested in being observers and hosting institutions that welcome other ASRS members to observe their practices. Opportunities are available both in the United States and globally and in a variety of practice settings.
Who is eligible to be an observer?
You are eligible to be an observer at any stage in your retina career as long as you are an ASRS member in good standing. Simply complete the observer application: www.asrs.org/forms/81/observership-and-training-opportunity-application.
Each hosting program may have its own requirements and additional paperwork to complete upon your being matched. To view these requirements, please review the available opportunities below.
The ASRS will strive to accommodate your preferences, but placements will be made on a first-come, first-served basis and are subject to availability.
Read more about the ASRS Observership Program in the winter 2018 issue of Retina Times.
What are the requirements for hosting institutions?
A hosting institution must include at least 1 ASRS member in good standing to serve as the observer's host. To get started, please complete a hosting application: www.asrs.org/forms/80/observership-and-training-opportunity-institution-form.
How long does an observership last?
Observerships must run for at least 1 to 2 weeks to be recognized by the ASRS, but can be extended based on the interest and availability of the host.
How is the observer acknowledged after completing the program?
As an observer, you will receive a certificate of completion at the end of your observership.
What recognition does the host receive after an observership?
The International Affairs Committee would like to recognize all hosts for their service to the Society. Once you have hosted 5 weeks of observerships, you will receive the ASRS Educator Award. If you host 20 or more weeks of observers, you will be eligible for the Master Educator Award. You will receive a certificate acknowledging your service at both levels.
---
Available Opportunities
---
Jones Eye Institute , University of Arkansas for Medical Sciences
Posted March 26, 2019

Hosting Member:
Ahmed Sallam, MD, PhD, FRCOphth
Address:
4301 W. Markham
Little Rock, AR 72205
Length of Program: 3-8 weeks
Number of Openings: one observer at any given time
Program Overview: There is an opportunity to observe a busy tertiary referral retina and uveitis practice. We have a state of the art facility including 3D Ngenuity and intraoperative OCT. Opportunity to do research is present for interested candidates.
Requirements: We welcome both US and international candidates, however we might not be able to assist international delegates obtaining US visas. It is therefore required that international candidates have a valid US visa for the period of their stay. Delegates will have to sponsor accomodations, no stipend will be provided.
---
Bern University Hospital
Posted August 2, 2018
Hosting Member:
Andreas Ebneter, MD, PhD

Address:
Inselspital
Bern, Switzerland 3010
Length of Program: negotiable, up to 3 months
Number of Openings: one observer at any given time
Program Overview: The visitor can attend three days of retina clinic (medical, surgical) and two vitreoretinal lists per week. Possibility for contribution to clinical research.
Requirements: Visa and funding need to be obtained by applicant.
---
University of Washington Eye Institute Retina Service
Posted June 22, 2018
Hosting Member:
Lisa C. Olmos de Koo, MD, MBA
Address:
325 Ninth Avenue
Box 359608
Seattle, WA 98104

Length of Program: 1-2 weeks
Number of Openings: 1 prior to ASRS Annual Meeting ; 1 post meeting
Program Overview: Observe clinic and surgery on the retina service at the University of Washington Eye Institute with various attending physicians. Review the sample observer schedule that can be tweaked according to interest.
Requirements: Paperwork for UW Harborview Medical Center observers completed; updated TB testing.
---
Retina Surgical Associates
Posted June 8, 2018
Hosting Member:
Hugh Parsons, MD, FRCSC, DABO
Address:
555 Sixth St.
200
New Westminster, BC, Canada V6M 3G2

Length of Program: 1-2 weeks

Number of Openings: 2; one at a time

Program Overview: A practice of 5 retina specialists. The exposure will be as an observer only.
Requirements: Must be ophthalmology qualified; a retina specialist preferred.
---
Barnet Dulaney Perkins Eye Center
Posted April 19, 2018
Hosting Member:
Brian Horsman, MD, FRCS(C)
Address:
4800 N. 22 Street
Phoenix, AZ 85016
Length of Program: 1-2 weeks
Program Overview: Observers will see retina patients, review FA, ICG, and OCT, observe subthreshold and CW laser, anti-VEGF injections, and observe or perform B-scans US.
Requirements: Must be a retina fellow or retina practitioner.
---
Illinois Retina and Eye Associates
Posted March 28, 2018
Hosting Member:
Kamal Kishore, MD, MBBS

Address:
4505 N. Rockwood Drive, Suite 1
Peoria, IL 61615

Length of Program: 1 month
Program Overview: Retina practice in a community setting.

Requirements: Already completed fellowship training in retina.
---
Massachuetts Eye Research and Surgery Institution (MERSI)
Posted January 29, 2018

Hosting Member:
Peter Y. Chang, MD
Address:
1440 Main Street
Suite 201
Waltham, MA 02451
United States

Length of Program: 2 weeks to 1 year
Our program provides training and observership opportunity in medical and surgical techniques of evaluating and managing patients with all forms of ocular inflammatory diseases and the associated complications.

We offer a broad range of surgical experience (uveitic cataract extraction, pars plana vitrectomy, retinal detachment repair, corneal transplant, scleral surgery, trabeculectomy, glaucoma tube shunts, Retisert, secondary IOL placement, and more). There is also the opportunity to work alongside our surgical retina fellowship trained faculty and ASRS member, Dr. Peter Chang.

Observers/trainees may participate in active research projects based on personal interests, including participation in clinical trials, basic science in a fully equipped laboratory, and clinical topics, with ample opportunity to publish i n recognized journals. Our program includes a strong didactic lecture series with invited experts across multiple disciplines. Additional learning opportunities are offered through monthly journal club and case conference meetings.

MERSI has an integrated infusion center and CLIA-certified diagnostic immunopathology laboratory on premises, and offers a convenient surgicenter on site as well as surgical experience at two recognized university-affiliated hospitals. We are conveniently located in close proximity to Boston while enjoying the many benefits of being just outside a major city (free parking, reduced cost of living, top rated schools in neighboring towns, excellent restaurants).

Requirements: Basic ophthalmic knowledge

---
Bascom Palmer Eye Institute
Posted January 9, 2018

Hosting Member:
Jorge A. Fortun, MD

Address:
1400 NW 10th Avenue, Suite 508
Miami, FL 33136
Length of Program: 2 days-4 weeks

The Bascom Palmer Eye Institute, Department of Ophthalmology of the University Of Miami Miller School Of Medicine, in keeping with its commitment to global exchange, is pleased to provide a clinical observership program for ophthalmologists from around the world.
The Clinical Observership program for physician is open to international physicians including residents and fellows in institutions abroad. U.S. physicians may also participate if not currently enrolled in a U.S. residency program. Please note that this program is not an elective rotation or a fellowship. This program is an observational tutorial which does not permit any direct patient care. To be accepted into the program you must have a good command of the English language.
---
Unidade Paulista de Oftalmologia
Posted December 18, 2017
Hosting Member:
Nelson Chamma Capelanes. MD

Address:
Av. Indianpolis, 489
São Paulo, SP, Brazil 04063-000
Length of Program: 1-3 months
Number of Openings: 1
Program Overview: Objective of the observership training program is to impart skills in the management of medical and surgical diseases of the vitreous and retina.

Training in clinical evaluation of vitreoretinal disease includes proficiency in indirect ophthalmology, slit lamp fundus biomicroscopy, and interpretation of diagnostic tests including digital fluorescein angiography, indocynanine green (ICG) angiography, retinal autofluorescence, optical coherence tomography (Spectral Domain and OCT -Angiography), B-scan ultrasonography,

The activities will be carried out at UPO Ophthalmology units in the city of São Paulo and its surroundings.

The participant will be part the clinical and surgical activities of the retina department, including exams and emergency surgeries (no hands-on surgeries).

The observer will also participate in clinical meetings and classes at UPO and clinical sessions at retina department of the Federal University of São Paulo, when authorized.

They may participate in ongoing clinical research and conduct studies under the guidance and supervision of teachers.
Requirements: Must be at least in the last year of residency;
Applicant must be under the age of 40;
Applicant must return to their home country after the training
---
West Virginia University Eye Institute
Posted December 18, 2017
Hosting Member:
Ghassan Ghorayeb, MD

Address:
1 Medical Center Drive
Morgantown, WV 26508
Length of Program: 1-2 weeks
Number of Openings: 2
Program Overview: We are a busy level 1 trauma center with 2 retinal surgeons and 1 medical retina faculty in addition to 2 retina fellows. We would be happy to host 1 or 2 visitors a year. We offer adult and pediatric retinal surgery, uveitis, ocular oncology, and retinopathy of prematurity.
Requirements: The visiting applicant will need to fulfill required institutional paperwork.
---
Murray Ocular Oncology and Retina
Posted December 11, 2017
Hosting Member:
Tim Murray, MD, MBA, FACS
Address:
6705 Red Road
Miami, FL 33143
United States

Length of Program: Minimum 2 weeks.

Number of Openings: 1
Program Overview: Advanced ocular oncology and surgical retina
Requirements: Fellowship training in retina
---
Retina Consultants of Austin/Retina Research Center
Posted December 11, 2017
Hosting Member:
Chirag D. Jhaveri, MD

Address:
3705 Medical Parkway
Suite 410
Austin, TX 78705
United States

Length of Program: Minimal 1 month, willing to extend up to one month.

Number of Openings: One at a time, willing to host up to 12 per year.

Program Overview: We are a academically oriented retina only practice which also has a research center and participates in a many clinical trials. Observers can learn how a private practice and research center can be run efficiently in parallel. Also observe surgeries at a ambulatory surgery center and hospital setting.

Requirements: Currently in fellowship or a practicing retinal physician.
---
The Retina Institute, St. Louis
Posted December 11, 2017

Hosting Members:
Bradley T. Smith, MD

Address:
1600 S. Brentwood Blvd.
Suite 800
St. Louis, MO 63144
United States

Length of Program: 1-4 weeks
Number of Openings: 2

Program Overview: Our practice is dedicated to education and research as well as patient care. We currently train 2 retina fellows per year. Participant observers will have the opportunity to follow our attending physicians and/or fellows in clinic over a 1-4 week period. Observation in the operating room will be available, but subject to institutional policies and review where cases are performed.
Requirements: Observerships will be considered on a case by case basis. A letter explaining the participant's goals for the observership as well as a resume should be submitted for consideration. Participants must agree to patient confidentiality requirements and accept their role as mere observers. Completion of an accredited ophthalmology residency training is required. At least one year of specialized retina training is preferred.
---
Singapore National Eye Centre
Posted November 2, 2017
Hosting Members:
Medical Retina: Gemmy Cheung, FRCOphth
Surgical Retina: Edmund Wong, MBBS, MMEed, FRCS, FAMS, Shu-Yen Lee, MBBS, FRCSEd(Ophth) and Gavin Tan, MBBS, MMED, FRCSEd(Ophth)
Address:
11 Third Hospital Avenue
Singapore 168751
Length of Program: up to 2 weeks for surgical retina and up to 1 month for medical retina
Number of Openings: 1
Program Overview: SNEC Retina Centre is the largest tertiary retina service in Singapore. Observerships are offered for both Medical and Surgical Retina.
Surgical retina observers will spend time with the faculty in clinics and operating theaters
Medical retina observers will be exposed to the various medical retina clinics as well as imaging sessions.

There is also an option for a research attachment
Requirements: Applicants will need to apply via the SNEC training and education route
---
Vitreoretinal Service, Ophthalmology Department, "G. GENNIMATAS" Athens General Hospital
Posted November 2, 2017
Hosting Member:
Emmanouil Mavrikakis, MD, PhD
Address:
Mesogion 154
Athens, Greece 11527
Length of Program: 3 months
Number of Openings: 1
Program Overview: Attending and examining patients with complex vitreoretinal pathology. Participating in intravitreal injection/ laser clinics and operating room. Taking part in research, ward rounds and IVFA/ ICG rounds.
Requirements: Resident training must be completed
Specialist exam in Ophthalmology must be passed
Applicant must be under the age of 40
Applicant must return to their home country after the training