ASRS Observership Program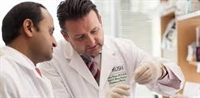 The ASRS Observership Program offers members a shadowing opportunity at hosting institutions across the globe. Participants will be able to watch procedures and surgeries, attend patient rounds and teaching conferences, and take part in other day-to-day activities. ASRS members can host international colleagues at their own practice as well as also apply to observe at another member's practice.
Opportunities are offered for 1 week for attending physicians and 2 weeks for retina fellows in conjunction with the Early Career Section. The program is available to both international members and US members who are interested in visiting international practices. Upon completion, participants will receive a certificate of completion.
Are you interested in hosting an ASRS member at your practice? Please complete the observership and training opportunity hosting member form (member login required). Please include a program description and any additional details. Your facility name and program overview will be posted below.
Trying to apply for an observership? Please complete the observership and training opportunity application (member login required). Please indicate on the form your regional or clinical facility preference. We will do our best to accommodate your preferences, but placement will be on a first-come, first-serve basis.
---
Available Opportunities
---
Unidade Paulista de Oftalmologia
Posted December 18, 2017
Hosting Member:
Nelson Chamma Capelanes. MD

Address:
Av. Indianpolis, 489
São Paulo, SP, Brazil 04063-000
Length of Program: 1-3 months
Number of Openings: 1
Program Overview: Objective of the observership training program is to impart skills in the management of medical and surgical diseases of the vitreous and retina.

Training in clinical evaluation of vitreoretinal disease includes proficiency in indirect ophthalmology, slit lamp fundus biomicroscopy, and interpretation of diagnostic tests including digital fluorescein angiography, indocynanine green (ICG) angiography, retinal autofluorescence, optical coherence tomography (Spectral Domain and OCT -Angiography), B-scan ultrasonography,

The activities will be carried out at UPO Ophthalmology units in the city of São Paulo and its surroundings.

The participant will be part the clinical and surgical activities of the retina department, including exams and emergency surgeries (no hands-on surgeries).

The observer will also participate in clinical meetings and classes at UPO and clinical sessions at retina department of the Federal University of São Paulo, when authorized.

They may participate in ongoing clinical research and conduct studies under the guidance and supervision of teachers.
Requirements: Must be at least in the last year of residency;
Applicant must be under the age of 40;
Applicant must return to their home country after the training
---
West Virginia University Eye Institute
Posted December 18, 2017
Hosting Member:
Ghassan Ghorayeb, MD

Address:
1 Medical Center Drive
Morgantown, WV 26508
Length of Program: 1-2 weeks
Number of Openings: 2
Program Overview: We are a busy level 1 trauma center with 2 retinal surgeons and 1 medical retina faculty in addition to 2 retina fellows. We would be happy to host 1 or 2 visitors a year. We offer adult and pediatric retinal surgery, uveitis, ocular oncology, and retinopathy of prematurity.
Requirements: The visiting applicant will need to fulfill required institutional paperwork.
---
Murray Ocular Oncology and Retina
Posted December 11, 2017
Hosting Member:
Tim Murray, MD, MBA, FACS
Address:
6705 Red Road
Miami, FL 33143
United States

Length of Program: Minimum 2 weeks.

Number of Openings: 1
Program Overview: Advanced ocular oncology and surgical retina
Requirements: Fellowship training in retina
---
Retina Consultants of Austin/Retina Research Center
Posted December 11, 2017
Hosting Member:
Chirag D. Jhaveri, MD

Address:
3705 Medical Parkway
Suite 410
Austin, TX 78705
United States

Length of Program: Minimal 1 month, willing to extend up to one month.

Number of Openings: One at a time, willing to host up to 12 per year.

Program Overview: We are a academically oriented retina only practice which also has a research center and participates in a many clinical trials. Observers can learn how a private practice and research center can be run efficiently in parallel. Also observe surgeries at a ambulatory surgery center and hospital setting.

Requirements: Currently in fellowship or a practicing retinal physician.
---
The Retina Institute, St. Louis
Posted December 11, 2017

Hosting Members:
Bradley T. Smith, MD

Address:
1600 S. Brentwood Blvd.
Suite 800
St. Louis, MO 63144
United States

Length of Program: 1-4 weeks
Number of Openings: 2

Program Overview: Our practice is dedicated to education and research as well as patient care. We currently train 2 retina fellows per year. Participant observers will have the opportunity to follow our attending physicians and/or fellows in clinic over a 1-4 week period. Observation in the operating room will be available, but subject to institutional policies and review where cases are performed.
Requirements: Observerships will be considered on a case by case basis. A letter explaining the participant's goals for the observership as well as a resume should be submitted for consideration. Participants must agree to patient confidentiality requirements and accept their role as mere observers. Completion of an accredited ophthalmology residency training is required. At least one year of specialized retina training is preferred.
---
Singapore National Eye Centre
Posted November 2, 2017
Hosting Members:
Medical Retina: Gemmy Cheung, FRCOphth
Surgical Retina: Edmund Wong, MBBS, MMEed, FRCS, FAMS, Shu-Yen Lee, MBBS, FRCSEd(Ophth) and Gavin Tan, MBBS, MMED, FRCSEd(Ophth)
Address:
11 Third Hospital Avenue
Singapore 168751
Length of Program: up to 2 weeks for surgical retina and up to 1 month for medical retina
Number of Openings: 1
Program Overview: SNEC Retina Centre is the largest tertiary retina service in Singapore. Observerships are offered for both Medical and Surgical Retina.
Surgical retina observers will spend time with the faculty in clinics and operating theaters
Medical retina observers will be exposed to the various medical retina clinics as well as imaging sessions.

There is also an option for a research attachment
Requirements: Applicants will need to apply via the SNEC training and education route
---
Vitreoretinal Service, Ophthalmology Department, "G. GENNIMATAS" Athens General Hospital
Posted November 2, 2017
Hosting Member:
Emmanouil Mavrikakis, MD, PhD
Address:
Mesogion 154
Athens, Greece 11527
Length of Program: 3 months
Number of Openings: 1
Program Overview: Attending and examining patients with complex vitreoretinal pathology. Participating in intravitreal injection/ laser clinics and operating room. Taking part in research, ward rounds and IVFA/ ICG rounds.
Requirements: Resident training must be completed
Specialist exam in Ophthalmology must be passed
Applicant must be under the age of 40
Applicant must return to their home country after the training