ASRS Presidents' Retina Young Investigator Award
ASRS Presidents' Award Honors Young Investigators
The Foundation of the American Society of Retina Specialists features the ASRS Presidents' Retina Young Investigator Award to honor past ASRS leaders while nurturing the next generation of retina researchers. The award encourages investigative work in critical areas that may lead to meaningful improvements in retina patients' lives.
2017 ASRS Presidents' Retina Young Investigator Award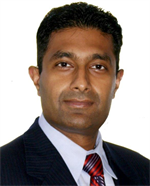 The 2017 Young Investigator Award recipient, SriniVas R. Sadda, MD, is the President and Chief Scientific Officer of the Doheny Eye Institute, the Stephen J. Ryan – Arnold and Mabel Beckman Endowed Chair, and Professor of Ophthalmology at the University of California – Los Angeles (UCLA), David Geffen School of Medicine. He received his medical degree from The Johns Hopkins University in Baltimore, Maryland. After an internship at the William Beaumont Hospital in Royal Oak, Michigan, he returned to Johns Hopkins University and the Wilmer Eye Institute in Baltimore for an ophthalmology residency as well as neuro-ophthalmology and medical retina fellowships.
Dr Sadda's major research interests include automated retinal image analysis, retinal substructure assessment, advanced retinal imaging technologies, and vision restoration approaches. His research has been consistently funded by the National Institutes of Health (NIH) and multiple private organizations including the Foundation Fighting Blindness, Research to Prevent Blindness, Foundation for Retinal Research, and the Macula Vision Research Foundation. He has organized multiple consensus efforts for the classification of various retinal disorders. Dr. Sadda has served as Principal Investigator for over 30 major clinical trials, and has led several international collaborative research programs. He is the founder and Emeritus Director of the Doheny Image Reading Center, one of the largest centralized reading centers in the world. He has more than 340 publications in peer-reviewed journals and over 300 published abstracts. He authored the first edition of the textbook Emerging Technologies in Retinal Disease, as well as 14 other book chapters. As an invited lecturer, he has given more than 350 presentations around the country and the world, including multiple named lectures. Dr. Sadda also serves as an editorial board member of Ophthalmic Surgery, Lasers & Imaging, Retina, Graefe's Archive for Clinical and Experimental Ophthalmology, Ophthalmology Retina, and Ophthalmology. He is also an editor of the 5th edition of the Ryan's Retina textbook. He regularly serves the NIH Center for Scientific Review on study section.
Among Dr. Sadda's awards and honors are a Research to Prevent Blindness Physician-Scientist Award, a Senior Honor Award from the American Society of Retina Specialists, a Senior Achievement Award and Secretariat Award from the American Academy of Ophthalmology, John H. Zumberge Research and Innovation Award, and the Macula Society Young Investigator Award. He has also received the Silver Fellow designation from the Association for Research in Vision and Ophthalmology. He has been named to the Best Doctors of America list for several consecutive years.