Insider's Guide to Seattle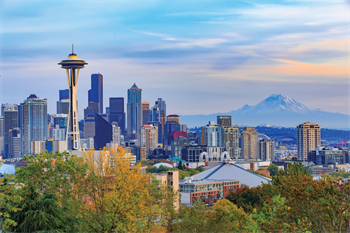 The ASRS looks forward to welcoming you to Seattle for the 41st Annual Scientific Meeting!
Here are some top attractions and restaurants for you to check out while you're in town.
*ASRS event location
** Recommended by Seattle-based ASRS members
---
Attractions and Activities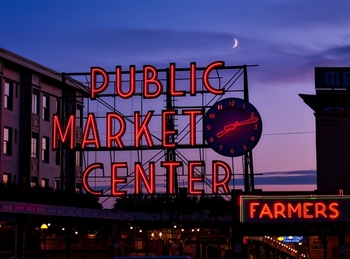 Pike Place Market: Visit the oldest operating farmer's market in the country and check out its 500 shops, vendors, restaurants, and bars. Be sure to stop and grab a cup of Joe at Starbucks original location in Pikes Place Market. Address: 85 Pike Street
The Space Needle: The recently renovated Space Needle is one of the most recognizable landmarks in the world. It is a treasured icon symbolizing the forward-thinking spirit of Seattle.
Built for the 1962 World's Fair, the Space Needle stretches 605 feet into the air with two viewing levels and the world's first revolving glass floor that provides panoramic views of downtown, Mount Rainier, Puget Sound, and the Cascades and Olympic mountain ranges. Address: 400 Broad Street.
Seattle Aquarium: See playful otters and other amazing sea creatures. Explore the underwater world of the Pacific Northwest and a Pacific Coral Reef. Address: Alaskan Way, Pier 59
Seattle Great Wheel: Make your way to the end of Pier 57 and enjoy a ride in one of the wheel's air-conditioned gondolas for a bird's eye view of the city, water, and mountains. Address: 1301 Alaskan Way
Starbucks Reserve Roastery & Tasting Room: Visit to watch as Starbucks Reserve coffees roast, enjoy a unique food and beverage menu, and shop one-of-a-kind merchandise. Address: 1124 Pike Street
Olympic Sculpture Park: Experience a variety of sculptures in an outdoor setting while enjoying the incredible views and beauty of the Olympic Mountains and Puget Sound. Admission is free. Address: 2901 Western Ave.
Boeing Future of Flight Factory Tour: Public tours of Boeing's Everett factory (28 miles outside Seattle) are available seven days a week. The facility is home to the 747, 767, 777 and 787 Dreamliner production lines and is the world's largest building by volume. Address: 8415 Paine Field Blvd Mukilteo, WA 98275
Bill Speidel's Underground Tour: One of Seattle's most unusual attraction, a humorous stroll through intriguing subterranean storefronts and sidewalks entombed when the city rebuilt on top of itself after the Great Fire of 1889. The 75-minute guided walking tour begins beneath Doc Maynard's Public House, then spills into historic Pioneer Square, Seattle's birthplace, before plunging underground for an exclusive, time-capsule view of the buried city. Address: 614 1st Avenue, in Pioneer Place Park, Pioneer Square, between Cherry and James Street.
---
Museums and Galleries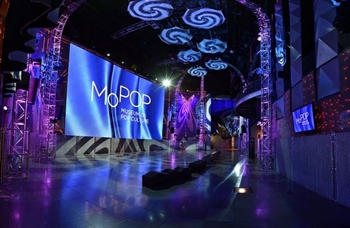 *Museum of Pop Culture: Join us for the Welcome Reception on July 28 and explore the amazing Museum of Pop Culture (MoPOP)! We'll have the museum to ourselves, so bring the whole family and get ready for a museum experience like no other on earth! MoPOP houses some of the world's most legendary pop culture artifacts. Discover the influential history of Nirvana, explore science fiction, fantasy and horror films, delve into Jimi Hendrix's Seattle roots, and even pick up the instruments or test your DJ skills in the in the state-of-the-art interactive Sound Lab! Address: 325 5th Ave. N.
*Chihuly Garden and Glass: Join your colleagues for the Annual Gala at the this unique and visually stunning venue. Chihuly features an eight-gallery exhibition surrounded by a richly landscaped garden and a centerpiece glasshouse with an expansive 100-foot-long sculpture in a color palette of reds, oranges, yellows and ambers. Delight in this exquisite exhibition that provides a look at the inspiration and influences that inform the career of artist Dale Chihuly. Address: 305 Harrison St.
Seattle Art Museum: Just one block from Pike Place Market, light-filled galleries invite you to wander through global art collections, temporary installations, and special exhibitions from around the world. Enjoy remarkable Native American galleries featuring Northwest Coast art. Wed-Sun 10am-5pm at 1300 First Ave.
Museum of Flight: The past, present and future of flight comes alive in a world-class collection, rich exhibits and a full schedule of special programs. Daily 10am-5pm, 9404 E. Marginal Way S.

Museum of History and Industry: Explore Seattle's history -- its development from wilderness to world-class city. Stroll through twenty five different "snapshots" of the city through the years in the True Northwest: The Seattle Journey exhibit. Visit the historic bridge room and admire artifacts such as the working WWII-era TANG periscope with 360 degree views of the city, and a 1885 Fresnel Lens from the Smith Island Lighthouse. 860 Terry Ave. N.
Fun For Families
**Seattle Center is a fun way to spend the day. Along with local food and beverage kiosks, it offers easy access to the Chihuly Gardens, Space Needle, Children's Museum, MoPop, outdoor play spaces, McCaw Hall and the Armory.
**Volunteer Park is a large open space with sweeping views of the city. It offers a botanical conservatory, Seattle Asian Art Museum, playgrounds and walking trails.
---
Restaurants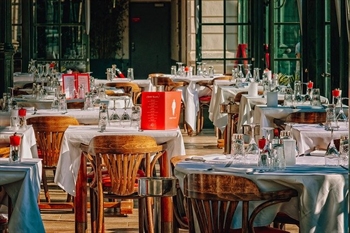 American Cuisine:
Canlis: Food & Wine Magazine once called Canlis "one of the 40 most important restaurants in the past 40 years." It has received 22 consecutive Wine Spectator Grand Awards and been nominated for 15 James Beard Awards.
Terra Plata: An "earth to plate" concept is the result of Chef Tamara Murphy's love for creative and delicious plates inspired by the seasons and made possible by local growers and artisan producers.
**Six Seven: Features seasonally inspired cuisine crafted with only the freshest and finest organic and naturally raised ingredients.
Shaker and Spear: A culinary playground of seasonal Pacific Northwest favorites, from market-fresh produce to locally sourced meats, cheeses, and sustainable seafood.
Seafood:

**Aqua by El Gaucho: AQUA by El Gaucho sparkles at the tip of Pier 70, offering a wonderful waterfront dining experience.
**Salty's on Alki Beach: Salty's is 'one of the world's great view restaurants' offering award-winning fresh Northwest seafood cuisine and attentive friendly service.
Shuckers: One of Seattle's oldest and most prominent oyster bars, features a wide selection of fresh seafood.
**Ray's Seafood: Ray's seafood restaurant serves fresh seafood prepared with classic technique and global inspiration. It is situated on the shores of Ballard overlooking Puget Sound and the Olympic Mountains.
Rockcreek Seafood & Spirits: Menu focused around globally sourced seafood from well managed fisheries.
Steakhouses:
**El Gaucho: Steaks and chops are prepared on a one-of-a-kind charcoal grill in an open exhibition style kitchen with a commitment is to sourcing the finest ingredients.
The Butcher's Table: The Butcher's Table is a modern steakhouse that features Mishima Reserve American Wagyu Beef and a fine dining experience.
The Metropolitan Grill: Voted "the best" steak in town. Hand selected, every Double R Ranch Prime steak is a savory combination of exacting quality, perfected custom dry aging and seasoned with their proprietary blend. In 2018, Metropolitan Grill was the proud recipient of the Wine Spectator Grand Award.

Global Cuisine:
Archipelago: An intimate, inventive restaurant in Hillman City melds Pacific Northwest cuisine with Filipino-American flavors.
IL Bistro: This Italian restaurant tucked away underneath the Pike Place Market, has provided Seattle with romance and intimate fine dining for the past thirty years. Market-fresh meats, seafood, and produce are always the number one priority. Diners experience the freshness and quality of local vendors in an authentic Italian restaurant setting.
Japonessa: A sushi "cocina" featuring a Japanese core concept with hints of Latin flair. From traditional nigiri and sashimi to rolls decorated with jalapeño, cilantro, and mango, Japonessa takes traditional Japanese cooking fundamentals and fuses them with flavors from Latin America.
Kau Kau: Kau Kau Restaurant is famous for its terrific barbecued meats.
Le Pichet: A Seattle institution with French cuisine. "Experts' Choice Award, Top 1%".
Meesha: Creating and sharing traditional Indian dishes with exciting flavors and ingredients.
The Pink Door: Owner Jackie Roberts offers an unpretentious escape from the everyday with a classic, produce-driven American-Italian menu, a convivial atmosphere fueled by her warm, friendly staff, and entertainment such as trapeze, cabaret, music and tarot. Enjoy the dining room, relaxing in the lounge or outside on the view deck overlooking Elliot Bay.
Pizzeria Credo: This bustling Italian bar and parlor specializes in wood-fired Neapolitan pizzas and house-made mozzarella.
Serafina: Fosters the philosophy of offering the freshest, highest quality ingredients and presenting its array of homemade Italian dishes in an honest and inviting way with a warm and soothing ambiance.
Shiro's: Blending of classical Japanese technique with local Seattle seafood.

Sushi Kashiba: A James Beard Outstanding Chef nominee. Sushi Kashiba offers the highest standard Japanese cuisine that sushi lovers have come to expect from who the Seattle Times calls, the "Sushi Sensei" of Seattle.
Umi Sake House: This unique restaurant is known for high-quality seafood, tapas, and sake.
Xi'an Noodles: Boasting some of the best noodles in Seattle with amazing taste and the nostalgic experience of eating biang biang noodles and other classic dishes for each and every guest.
Cafes:
Bake Shop features house made baked goods, sourdough breads, and a menu of toasts, sandwiches, and salads. They serve coffee, loose leaf teas, beer, and natural wine.
**Bakery Nouveau features daily one-of-a-kind creations, pastry, bread and chocolate.
**Cafe Allegro is home to Seattle's oldest espresso bar and one of the country's finest Seattle-style coffee roasters.
**Caffe Ladro has always valued sustainably and ethically produced coffee.
**Eltana is a wood fired bagel cafe that features hand-rolled and uniquely made bagels.
**Victorla Coffee Roasters focuses on sourcing unique, quality coffees and roasting them to the high standards it is known for.
---
Additional Resources
Some content on this page is restricted to access by members only.