ASRS Presidents' Retina Young Investigator Award
ASRS Presidents' Award Honors Young Investigators
The Foundation of the American Society of Retina Specialists features the ASRS Presidents' Retina Young Investigator Award to honor past ASRS leaders while nurturing the next generation of retina researchers. The award encourages investigative work in critical areas that may lead to meaningful improvements in retina patients' lives.
2018 ASRS Presidents' Retina Young Investigator Award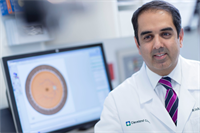 Established to honor past presidents of the Society, the award is aimed at nurturing the development of next-generation retina leaders. It is presented by the Foundation annually to an ASRS member age 45 or younger who has made substantial contributions to the field of retina that will potentially improve the lives of patients. The winner receives a $15,000 honorarium, thanks in part to a grant from Regeneron Pharmaceuticals, Inc.
Dr. Singh is the medical director of informatics at the Cleveland Clinic where his current work focuses on electronic medical records implementation, big data and machine learning, lean process improvement, and decision support modules for clinical practice.
He has authored more than 110 papers in peer-reviewed publications and serves as the principal investigator of numerous national clinical trials advancing the treatment of retinal disease. He is frequently invited to speak at national and international meetings, as well as continuing medical education seminars.
Dr. Singh is an associate editor of Ophthalmic Surgery, Lasers and Imaging Retina (OSLI-Retina) and an editor of theAmerican Journal of Ophthalmic Clinical Trials. He serves on the ASRS Board of Directors and is president of the Retina World Congress. He also serves on several industry scientific advisory boards.
Dr. Singh has received several research recognitions such as the Alpha Omega Alpha Research Award and the ASRS Senior Honor Award.
After receiving his award on Sunday, July 22 at the Annual Meeting, Dr. Singh will present the Fifth Annual Young Investigator Award Lecture, "Advancing Insights Into Diabetic Eye Disease."