Access Information for ASRS 2020 Virtual Annual Meeting
Continute to enjoy virtual 38th Annual Scientific Meeting content until November 1, 2020! Meeting attendees can access the 2 meeting platforms for the following information.
---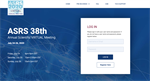 Live Meeting Platform (login in with ASRS username and password: asrsvirtual2020)
Visit the 2020 Live Meeting Platform for the recorded live panel discussions, the Virtual Exhibit Hall and Updates from the Field. Be sure to visit all of our booths to receive the free Yeti tumbler. *Please note: the Virtual Exhibit Hall tracks attendee visits and ASRS will notify those who qualify for a tumbler.
---
Mobile Meeting Site (login with ASRS username and password)
The Mobile Meeting Site also offers access to the recorded live meeting panel discussions, as well as abstracts, presentation videos, papers on demand, posters, films, exhibitors and attendee lists, CME and satellite symposia.
Technical Information
The mobile site is compatible with all modern browsers, including Google Chrome, Mozilla Firefox, Apple Safari, and Microsoft Edge. Your browser must have cookies and JavaScript enabled.
Important Information for iPhone and iPad Users
If you use an iPhone or iPad (using Safari) and have trouble loading the site, try clearing your Safari history and cookies. If clearing history and cookies does not work, try removing all website data, which can be done in the advanced settings in Safari.
Need Help?
If you need assistance accessing the mobile meeting site, please e-mail stacy.kiff@asrs.org or click the "Report an issue" link in the site footer.