The Founding of the ASRS
by Jerald A. Bovino, MD
"The beginnings and endings of all human undertakings are untidy."
– John Galsworthy,
Author, Nobelist (1867–1933)
There is an old aphorism that "necessity is the mother of invention." In the case of The Vitreous Society, this certainly holds true. The Vitreous Society was formed at a time when knowledge about vitreous surgery was growing exponentially. However, the pre-existing specialty societies, configured for exclusivity, strictly limited the number of new members. Accordingly, as each year passed, an increasing number of young, enthusiastic, well-trained vitreoretinal surgeons found themselves without a professional organization to serve their needs.
The Founders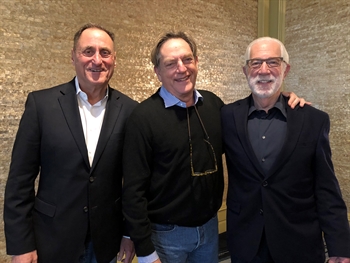 Three physicians, Jerald A. Bovino MD, Allen Z. Verne, MD, and Roy A. Levit MD (from left to right), started the Vitreous Society. We served as residents in Ophthalmology at St. Luke's Medical Center in New York City, which was one of the Columbia Medical School teaching hospitals. We were also very close personal friends. The chairman of our department, James C. Newton MD, encouraged us to pursue post-graduate retina fellowships. He told us that the most exciting advances in ophthalmology during our professional careers would occur in this subspecialty. Moreover, vitreous surgery began to develop as a separate and exciting discipline during our period of training in the 1970's. Indeed, we were the first generation of ophthalmology residents to learn about this incredible new surgical breakthrough.
During the early years of my practice, it was extremely difficult for young vitreoretinal surgeons to gain acceptance to existing retinal subspecialty organizations. They were subjected to long waiting periods and a capricious selection process. In the fall of 1981, my wife, Ester, sensing my frustrations, inquired whether I could start a Retina or Macula Society. When I explained that they already existed, she simply asked, "Who does the Vitreous Society?" That was the catalyst that sparked the formation of our organization.
The Dinner
Several months later, in early March of 1982, I attended a meeting of the Aspen Retinal Detachment Society with Dr. Levit and Dr. Verne. The three of us, along with our wives, had an intimate dinner at Poppy's Restaurant in Aspen. I discussed Ester's idea of forming a new subspecialty society. Everyone at the dinner table enthusiastically applauded the concept.
Fortunately, Roy Levit took prompt action. Immediately after he returned to El Paso, he asked an attorney to incorporate the Vitreous Society as a non-profit organization in his home state. Simultaneously, Allen Verne attacked the process of designing and printing membership certificates. The executive offices of the society were located in Toledo, Ohio, where I maintained my vitreoretinal practice.
With great trepidation, I configured a letter to the invited charter members. After all, we were starting a new professional organization without the "sanction," of senior physicians in our field, and we were apprehensive about the way it would be received. I also wrote separate letters to the recognized pioneers in vitreoretinal surgery. I explained that the Vitreous Society was formed, in large part, to honor their important contributions. I further explained that the society would serve the needs of a new breed of vitreoretinal surgeon. We were certainly the first generation of sub-specialists to embrace the utility of vitrectomy. Although some of the invited vitreoretinal pioneers did not give us their blessings, we were determined to proceed. Fortunately, we received encouragement from the vast majority of physicians, who responded positively and enthusiastically.
In contrast, there was a limited but vocal group of retina specialists who complained. Their frustrations centered around two themes. Either they felt that there was no need for a new subspecialty organization, or they felt that the three founders had "no right" to start one. Not surprisingly, those who felt there was no need for a new organization were already established members of the exclusive Retina and Macula Societies. At this time, Roy Levit received a flurry of phone calls from interested physicians. Most were very positive about the new organization. However, a few of these calls were unpleasant, angry and even accusatory, Roy was the perfect person to field them. He is thoughtful, soft-spoken and articulate, and he diplomatically deflected a great deal of the early criticism.
The First Meeting
The first Annual Meeting of the Vitreous Society was held in December 1983 at the Sheraton Plaza Hotel in Palm Springs, California. Fifty-Five charter members attended. Robert C. Watzke MD delivered the inaugural lecture, in which he discussed the "History of Vitreous Substitutes." The meeting was an overwhelming success.
Roy Levit, Jerald A. Bovino and Allen Verne served as the first presidents of the fledgling organization. In the early years, there were many hard-working, talented physicians who contributed to our growth and success. This list includes Drs. W. Sanderson Grizzard, Z. Nicholas Zakov, Andrew J. Packer, Harry W. Flynn Jr., Michael A. Bloome, George A. Williams, Laurence R. Avins, Kirk H. Packo, Barbara A. Phillips, Paul E. Tornambe, Charles F. Mahl, Reed Pavan and Robert Wendel. Each of these doctors worked tirelessly for the society. We all shared a common vision, which was to create an open, democratic and egalitarian professional society. We geared our society to be inclusive rather than exclusive. We welcomed international members. We strived to form an organization that represented both private practitioners and academicians. We emphasized the importance of collegiality, respect for new ideas, and open discussion.
The Vitreous Society was the first subspecialty society to have an independent website, an online journal, live internet surgery and a dedicated list-server. It is currently the largest subspecialty organization of its kind. Our membership includes more than 2700 vitreoretinal surgeons. We represent specialists from all 50 states and 59 countries.
We learned important lessons during the formation of the Vitreous Society, now know as The American Society of Retina Specialists. Collegiality and respect for our fellow physicians never goes out of style. Reverence for new and exciting ideas encourages the production of "new and exciting ideas." Democracy, although imperfect, remains the best form of government. Most importantly, "information wants to be free."