Advertise
Retina Times 2013 rates and specifications
Effective January 1, 2013
Retina Times is the definitive information source for physician members of the American Society of Retina Specialists (ASRS). More than 4 out of every 5 retina specialists in the United States are ASRS members.
The 5-times-yearly publication covers the latest clinical trials, research and technology updates, ASRS news and meeting plans, as well as socioeconomic issues and international news.
Retina Times also reports relevant information on trending topics, surgical instruments, and safety updates for the practicing retina specialist.
The journal is noted for its color-rich retinal photography. Retina Times is well-read among retina specialists, who look to the publication for timely information that affects their practice.
J. Michael Jumper, MD
Editor-in-Chief
West Coast Retina
San Francisco, California
---
2013 issue and advertising deadline dates
| | | | |
| --- | --- | --- | --- |
| Issue | Closing date | Materials due | Mailing date (subject to change) |
| Spring | January 18 | February 1 | March 6 |
| Summer | March 29 | April 12 | May 14 |
| Fall | August 16 | August 30 | October 2 |
| Winter | October 18 | November 1 | December 4 |
All space reservations and cancellations must be confirmed in writing before the closing date. Mail or email to:
Mary Anne Difatta, Advertising Manager
Retina Times
20 N. Wacker Drive, Suite 2030
Chicago, IL 60606
m.difatta@asrs.org
Advertising policy
Advertising is subject to approval by the American Society of Retina Specialists, which reserves the right to decline advertising not in accordance with the publication's standards.
Ad positioning is at the discretion of the publisher, except when a preferred position has been confirmed in writing by the managing editor.
All new ads should be emailed for approval to Mary Anne Difatta, Advertising Manager: m.difatta@asrs.org
Short-rates and rebates
Short rates will apply to advertisers who do not attain the frequency on which their advertising has been billed during the 12-month contract period.
Rebates will be given to advertisers who earn a more favorable frequency rate.
---
Circulation
Field served: Retina Times is circulated to physician members of the American Society of Retina Specialists, including:
Practicing retina specialists: Board-certified ophthalmologists who have completed a vitreo-retinal fellowship of 1 year or more, and whose major professional activity is devoted to patient care, instruction, or research in the field of vitreo­retinal diseases.
Retina fellows in training: Physicians who have completed an approved residency in ophthalmology and are engaged in a 1- or 2-year fellowship in vitreo­retinal diseases.
List origin: ASRS member physician database
Projected 2013 circulation: 2,400

---
Advertising rates
2013 display ad rates (4-color or B & W)
| | | | | |
| --- | --- | --- | --- | --- |
| Ad size | 1x | 2x | 3x | 4x |
| 1/4 page | $ 3,544 | $ 3,436 | $ 3,327 | $ 3,219 |
| 1/2 page | 5,499 | 5,337 | 5,168 | 5,004 |
| Full page | 6,319 | 6,132 | 5,944 | 5,752 |
| 2-page spread | 9,860 | 9,568 | 9,271 | 8,971 |
| 4-page insert* | 8,400 | 8,400 | 8,400 | 8,400 |
| Cover tip or bellyband** | 10,500 | 10,500 | 10,500 | 10,500 |
Supporters of the 2012 ASRS Annual Meeting receive a 10% discount.
*Rates shown are for printed inserts provided by the advertiser. For pricing to have Retina Times print the inserts, contact Mary Anne Difatta: m.difatta@asrs.org.
**Cover-tip pricing is based on Retina Times' printing a 7" x 5-1/2", 4-color, 2-sided advertising piece. Advertiser must supply a high-resolution PDF.
---
Premium positions
A limited number of special positions are available for ad sizes of 1 page or more. Position cancellations must be made at least 30 days before the closing date to avoid the premium charge.
| | |
| --- | --- |
| Position | Additional |
| IFC & page facing IFC | 35% |
| Page facing masthead | 25% |
| Page facing table of contents | 25% |
| Inside back cover | 15% |
| Outside back cover | 50% |
Agency commission
A 15% deduction of gross billings is allowed to recognized agencies on space charges, provided the account is paid within 30 days by the agency.
In consideration of this discount, the publisher shall have the right to hold the advertiser and/or its advertising agency jointly and severally liable for monies due and payable to the publisher for advertising which the advertiser or its agent ordered and for which advertising was published.
Rates apply to the calendar year and are subject to change on 60 days' notice from the publisher. No conditions, printed or otherwise, appearing on insertion orders, billing instructions, or copy instructions conflicting with ASRS's stated policies shall be binding on publisher.
---
Ad sizes and production specifications
Ad space dimensions
Page size

Non-bleed width x depth

Bleed width x depth

Specifications

1/4 page

3-5/8" x 5-1/4"

N/A

Publication trim size:
8-1/2" x 11-1/2" Bleed sizes include 1/8" trim from outside, bottom, and top. Keep live matter at least 1/2" from trim. Binding: Saddle-stitched

1/2 page horizontal

7-1/2" x 5-1/4"

N/A

1/2 page vertical

3-5/8" x 10-1/2"

N/A

Full page

7-1/2" x 10-1/2"

8-3/4" x 11-3/4"

2-page spread

16" x 10-1/2"

17-1/4" x 11-3/4"
Digital file requirements
All advertising should be provided as a high-resolution .pdf file. Furnished PDF files should comply with PDF X-1a specifications as described at http://www.pdf-x.com. The PDF version should be either 1.3 or 1.4. All fonts and high-resolution images should be embedded. Type set on the Mac OS should not be menu-styled. Embedded images should be in EPS or TIFF format in a CMYK mode.
All art, type, and print elements should be set to knockout or overprint as desired. Crop and registration marks should be included with an offset of 12 points.
Page geometry must be set with the art box dimension 1" larger than the final trim size. Never use the "Save page as PDF" feature of the page layout program. Always print PostScript to disk and refine to PDF using Distiller. Do not submit CT/LW, TIFF-IT or DCS files embedded in a PDF "wrapper."
Publisher is not responsible for incorrectly prepared digital files that cannot be corrected and resent within the production timetable.
Send completed files to:
m.difatta@asrs.org
or mail disk to:
Mary Anne Difatta, Advertising Manager
Retina Times
20 N. Wacker Drive, Suite 2030
Chicago, IL 60606
FTP is also available for uploading files.
Insert specifications
4-page: 15-1/2" x 10-1/2", folding to 7-3/4" x 10-1/2"
Stock: Acceptable basis weights are computed using 500 sheets,
25" x 38", 80# preferred.
High-bulk stock: Subject to publisher's approval.
Required insert quantity: 3,000 per issue.
Insert shipping instructions
Closing dates: See deadline dates above. Inserts must be clearly marked on shipping label with "Retina Times," issue date(s) and quantity per issue. Attach a sample of insert to each carton.
Ship to:
Retina Times
Attn: Brian Huey
Lakewood Printing
85 S. Fairbank
Addison, IL 60101
Inserts should be shipped in telescopic cartons (T boxes). Stack inserts with approximately 50 head to foot, then 50 foot to head. Place a sheet of corrugated cardboard every 4-5 inches within stacks of inserts OR pack inserts in standard cartons with 50 head to foot and then 50 foot to head. Do not shrink-wrap or slip-sheet between individual items.
Insert use and disposal
After the issue is mailed, any unused inserts marked for that issue will be destroyed unless otherwise indicated on the insertion order. However, advertiser will be advised before disposition if the leftover inserts exceed 10% of publisher's requested quantity. Excess inserts held in storage at advertiser's request after an insertion order is completed may be subject to a storage charge.
For details, call Brian Huey, Lakewood Printing, at (630) 628-9119.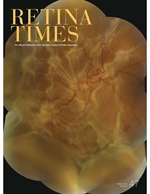 Rate Card and Insertion Order

Retina Times 2013 Rate Card and Specifications
---
Retina Times also will publish a Special Meeting Issue which will be distributed at the 31st ASRS Annual Meeting, August 24–28, 2013 in Toronto.
---
Publication statistics
Established: 1997
Current title: 2002
Editorial source: Original manuscripts
Average issue total folio: 52 pages
Average ad/editorial ratio: 27/73
Ad placement policy: Interspersed between articles. Fair ad rotation front/back from issue to issue.
---
Questions?
Mary Anne Difatta, Advertising Manager
(312) 477-8861
m.difatta@asrs.org