ASRS Observership Program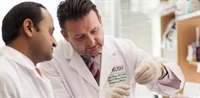 The ASRS Observership Program offers members a shadowing opportunity at hosting institutions across the globe. Participants will be able to watch procedures and surgeries, attend patient rounds and teaching conferences, and take part in other day-to-day activities. ASRS members can host international colleagues at their own practice as well as also apply to observe at another member's practice.
Opportunities are offered for 1 week for attending physicians and 2 weeks for retina fellows in conjunction with the Early Career Section. The program is available to both international members and US members who are interested in visiting international practices. Upon completion, participants will receive a certificate of completion.
Are you interested in hosting an ASRS member at your practice? Please complete the observership and training opportunity hosting member form (member login required). Please include a program description and any additional details. Your facility name and program overview will be posted below.
Trying to apply for an observership? Please complete the observership and training opportunity application (member login required). Please indicate on the form your regional or clinical facility preference. We will do our best to accommodate your preferences, but placement will be on a first-come, first-serve basis.
---
Available Opportunities
---
Singapore National Eye Centre
Posted November 2, 2017
Hosting Members:
Medical Retina: Gemmy Cheung, FRCOphth
Surgical Retina: Edmund Wong, MBBS, MMEed, FRCS, FAMS, Shu-Yen Lee, MBBS, FRCSEd(Ophth) and Gavin Tan, MBBS, MMED, FRCSEd(Ophth)
Address:
11 Third Hospital Avenue
Singapore 168751
Length of Program: up to 2 weeks for surgical retina and up to 1 month for medical retina
Number of Openings: 1
Program Overview: SNEC Retina Centre is the largest tertiary retina service in Singapore. Observerships are offered for both Medical and Surgical Retina.
Surgical retina observers will spend time with the faculty in clinics and operating theaters
Medical retina observers will be exposed to the various medical retina clinics as well as imaging sessions.

There is also an option for a research attachment
Requirements: Applicants will need to apply via the SNEC training and education route
---
Vitreoretinal Service, Ophthalmology Department, "G. GENNIMATAS" Athens General Hospital
Posted November 2, 2017
Hosting Member:
Emmanouil Mavrikakis, MD, PhD
Address:
Mesogion 154
Athens, Greece 11527
Length of Program: 3 months
Number of Openings: 1
Program Overview: Attending and examining patients with complex vitreoretinal pathology. Participating in intravitreal injection/ laser clinics and operating room. Taking part in research, ward rounds and IVFA/ ICG rounds.
Requirements: Resident training must be completed
Specialist exam in Ophthalmology must be passed
Applicant must be under the age of 40
Applicant must return to their home country after the training