Community
Connect and share with colleagues
The ASRS Community section is your place to consult with colleagues, keep up with current trends in the profession, and review exceptional cases.
---
RetinaTalk Forum
Clean, simple, and fast. The new RetinaTalk Forum makes it easy for ASRS members to share knowledge and discuss their work.
Email notifications: Get the latest updates delivered to your inbox.
Full RSS feed support: Subscribe to recent messages and latest topics.
Built-in Rating System: Vote a message "up" or "down" with one click.
---
A Unique Case of Unilateral Acute Idiopathic Maculopathy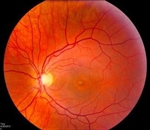 This Spotlight Case has been submitted by Oscar Kuruvilla, MD; Shareef Ahmed, MD; Nitin Kumar, MD; and Uday R. Desai, MD.

A 35-year-old male presented to the retina clinic after sudden loss of vision OS. Other than this presenting complaint, he was asymptomatic, including no report of flashes, floaters, or pain. He denied any recent illnesses, and ocular history was significant only for LASIK surgery approximately 11 years prior to presentation.

Significant medical history included sleep apnea and allergic rhinitis, which was not being treated with nasal steroids. Family history included AMD and glaucoma in first-degree relatives.
Visit the archives for more Spotlight Cases.
---
Preferences and Trends Survey
Each year, the Preferences and Trends Survey measures member retina specialists' preferences on a wide range of topics.
Learn about the survey and read the 2013 results.