Retina PractiCare

Turning Claims Into Intelligence
The American Society of Retina Specialists' Retina PractiCare is the go-to resource for data on how your practice compares with national and regional trends. Practice-specific Retina PractiCare reports can help you determine changes in coding and billing to avoid costly audits and recoupments, bolster negotiating power with payers, and strengthen arguments against comparisons with comprehensive ophthalmologist.
Retina PractiCare is the only HIPAA compliant benchmarking tool based solely on claims from retina practices that:
Analyzes healthcare service utilization trends

Establishes normative practice and coding patterns

Provides retina-specific data for responding to insurers' efforts to create "efficiency" in practice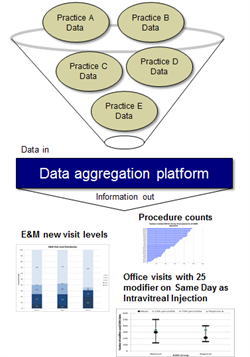 Workflow overview
Retina PractiCare enables practices to benchmark a variety of metrics against the regional and national averages. The graphic to the right shows a basic model (click the graphic to enlarge).
ASRS provides participants with a tool that extracts data from your claims files or Excel-based report, removes the protected health information (PHI) from the extrated information, and submits the PHI-free extracted data to secure AWS GovCloud servers. The data from praticipating practices is aggregated and analyzed to create practice-specific reports for participants that illustrate the practice's* and its individual physician's performance* against the national and regional trends.
*Practice-level reports only contain practice-specific data for that practice and it's individual physicians. Your practice-specific information is not shared with other participants.
See a list of Retina PractiCare report analyses (login required)
Questions about Retina PractiCare?
Consult the Retina PractiCare FAQ and/or contact Caroline Bozell at caroline.bozell@asrs.org or 312-578-8760.
Expert Overview
Retina PractiCare is made possible by contributions from Allergan and
Regeneron Pharmaceuticals, Inc.